TurboHire was recognised in GetApp's Category Leaders 2022 in Staffing Agency Software. Based on user reviews, GetApp compared the top-ranking software for Staffing Agency.
They covered 5 criteria to come up with a score for each software evaluated. These 5 criteria were worth 20 points each with a maximum total score of 100, namely-
Ease of use
Value for money
Likelihood to recommend
Customer support
Functionality
They evaluated 65 products in this category based on this methodology. Considering the above-mentioned criteria TurboHire achieved a score of 75 out of 100. With an overall score of 4.1 out of 5, we got 4.1 out of 5 in value for money and 79% positive reviews from users of TurboHire.
Have a look at our recognition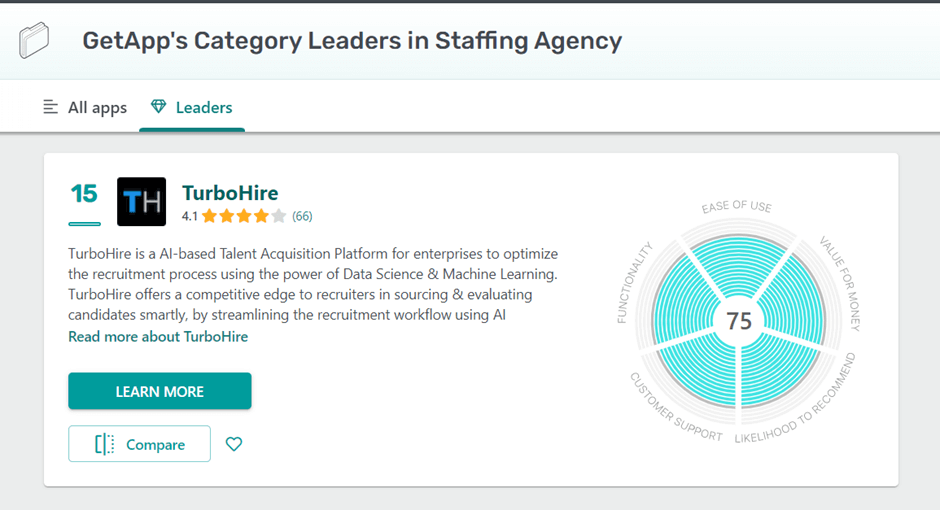 About GetApp
A Gartner company, GetApp has been recommending software for 10+ years. It's an online software discovery platform for businesses exploring service products in different categories. GetApps free interactive tool enables businesses to explore, compare and find the best-suited solution through detailed product data. So far the platform has given space to 1.5M+ users who have access to 14K+ software profiles and 1.2M+ user reviews.
Get features 800+ software categories and provide insights, trends, validated user reviews, and research which further enhances the decisions of the buyers and in turn the functionality of their organisation.
TurboHire users review on GetApp
Similar Recognitions and Impact on Staffing agency by TurboHire