TurboHire is proud to announce its mention as a noteworthy Product in 2022 Shortlist for Staffing Agency Software by Capterra.
Since 1999, Capterra is helping businesses choose better software. The 2022 shortlist covers top staffing agency tools that are the highest-rated and the most popular ones. Out of 112 products analysed by Capterra based on this methodology, TurboHire is named as one of the top Noteworthy Products with a rating of 46/50.
With an overall score of 4.1 out of 5, it is rated 4.1 out of 5 in customer service as well and we are more than glad to win these numbers and be able to impact our users by optimizing their recruitment process with AI-powered tools.
Have a look at our recognition: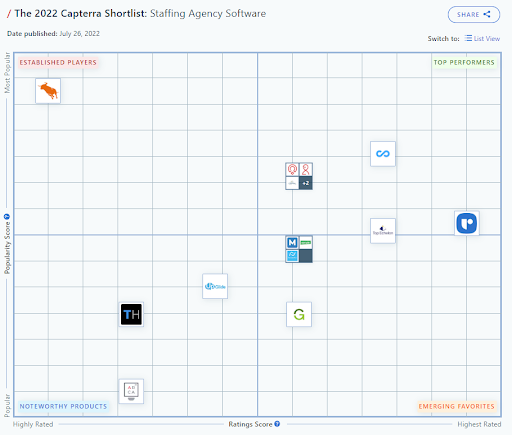 About Capterra
Capterra, is a free online service that helps organizations find the right software and enables smart decisions about digital tools that power any business model. They have been the world's leading software reviews and selection platform. You will be able to find 1.5 million+ valid reviews, ratings, and infographics on multiple software categories.
Your decisions will be hundred per cent refined after getting insights and comparisons covering crucial criteria for ranking these software. One can literally browse 50000+ products on this platform and get the most popular and best-performing tool in the industry.
We received some stellar reviews on Capterra:
"TurboHire is a Excellent software, AI used database and very helpful for the leadership team to track and find the right resources." – Piyush P.
"Turbohire provides a comprehensive solution for all the needs starting from raising Job requisition, conducting interview, profile tracking till providing feedback etc." – Srirama B.
"Easy to use and the platform is a one stop shop setup for recruitment. Assessment is easy to share and centralized for transparency across teams." – Anand C.
Why do Staffing agencies need recruitment automation?
Staffing agencies, usually manage multiple accounts and even more jobs at one single time. Not only do they have to close the jobs assigned but also track the recruitment process of different recruiters handling different accounts. All this can cause delays due to unorganised yet truck full work.
To save the recruitment agencies all the time spend in organizing huge databases and tracking process, automation and optimization is crucial.
Top 7 reasons they need recruitment automation:
After the pandemic more clients turned to staffing agencies given it's a job candidate's market
The disability of finding the right candidate at just the right time will lead to losing a good talent pool
The absolute best candidate experience is necessary for employer brand preference, which can only be achieved by automation of candidate screeningand timely communication.
Clearly not meeting the timeframe for hiring can lead to losing the client base
An interview is another window for candidates to determine the preference toward the employer. This calls for interview automation since so many candidates are being evaluated at the same time.
Timely and smooth offer management and background verification reduces the chance of rejecting an offer by candidates shortlisted
High time to move from prioritizing filling more jobs to find the best fit. Quality, not quantity. Only an accurate resume scoring tool can solve the purpose.
Use cases of Recruitment Automation by Staffing Agencies
1. Vitasta
Vitasta Consulting is a reputed recruitment consulting firm with a strong presence across industries.
Vitasta was looking for a recruitment workflow that could save them time and money to retrain recruiters on an 8 stage hiring process.
This also meant having a central database for all the resumes and a seamless workflow for candidate management.
Most importantly, they had to do away with manual entries.
TurboHire solution:
Faster and quality sourcing of candidates via TurboHire Connect, a Google Chrome extension that helps recruiters source candidates from various job boards on to their TurboHire account.
Vitasta's resume database was searchable.
The re-discovery feature helped Vitasta retarget past applicants.
LinkedIn-like smart cards for each shortlisted applicant.
This helped speed up their hiring by 3x, which further accelerated the productivity of their recruiters by 40%.
2. Spectrum
Spectrum Consultants India Pvt Ltd is a 25 year old recruiting and staffing agency with clientele that includes Fortune 50 IT companies.
The Talent Acquisition team at Spectrum was looking for an intelligent automation platform that could help them centralise their 1.5 lakh candidate database to build a solid and effective network.
The manual search mechanism was effecting the quality of sourcing.
TurboHire solution:
TurboHire provided a user friendly profile creation for resume database.
They could now rank candidates with TurboHire's AI-based candidate scoring feature.
The API services provided by TurboHire helped Spectrum overlay real-time data of top candidate applications and thereby make their recruitment process smarter and faster.
For more, head over to our customer stories section and to check other awards and recognitions won by TurboHire.