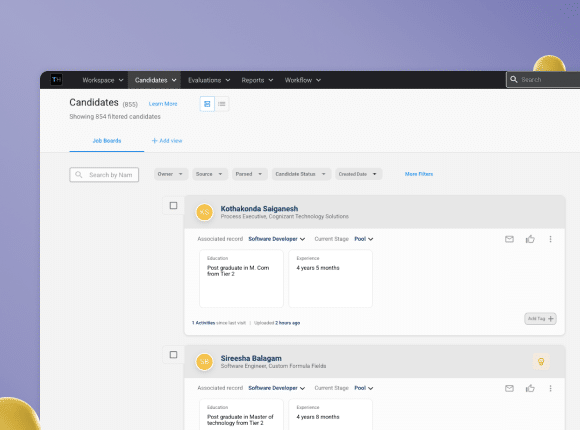 Resume Parsing
TurboHire provides a resume parsing engine that can extract structured data from resumes written in different formats.
Problem
Manually entering data from candidate resumes is a tedious process and often prone to human error.
How we solve
TurboHire provides a resume parsing engine that works across resumes into different formats trained over 2.5m resumes across industries.
Data Enrichment
TurboHire provides a rich knowledge graph that enriches the data extracted from resumes and fills the missing gaps
Problem
The information required for shortlisting resumes is often not present in the resumes. Additionally, sometimes the most important information like contact information and social profiles is missing from the resume
How we solve
TurboHire, with its massive knowledge graph, adds industry, education pedigree, skill proficiency information based on candidate resume for better & faster candidate selection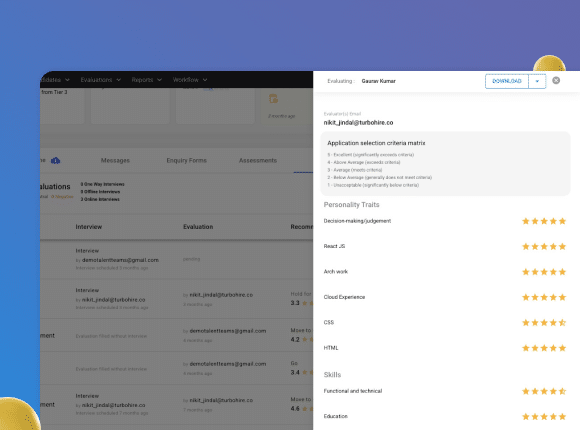 Resume Scoring
TurboHire allows organizations to score resumes based on multiple criterias across experience, education and skills
Problem
Candidate applications per job has become 3X due to remote work which has made it extremely difficult to manually find the right candidates
How we solve
TurboHire resume scoring engine automatically stack-ranks candidate profiles for you to focus on the high potential candidates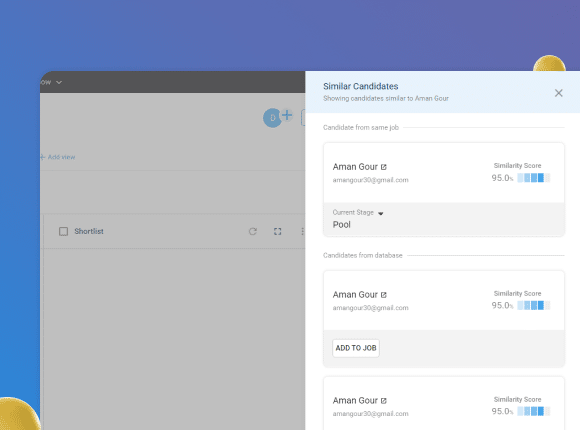 Candidate Similarity
TurboHire allows organizations to find candidates that are similar to their ideal candidates thus enabling a directed search.
Problem
Often even after finding a good candidate, recruitment teams spend a lot of time manually finding other similar candidates.
How we solve
TurboHire automates the process of finding similar candidates by easily highlighting similar candidates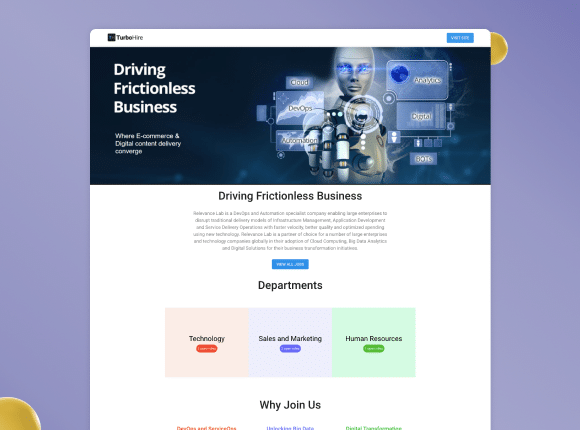 Job Recommendation
TurboHire allows organizations to build smart careers pages that help candidates easily find the right opportunities for them
Problem
There are often a lot of open positions on careers pages and its hard for candidates to locate the right jobs based on their profile
How we solve
TurboHire easily suggest the right jobs to every candidates by matching their profile to available jobs
Transform your recruitment: One hire at a time
Bring a change in your recruitment strategy and process today that can yield you a much higher ROI. Don't take our word for it, hear from our customers. We have been rated highly by customers for Ease of Use, Quality of Support, Ease of Setup.
Trusted and loved by recruiters globally
Explore our other solutions