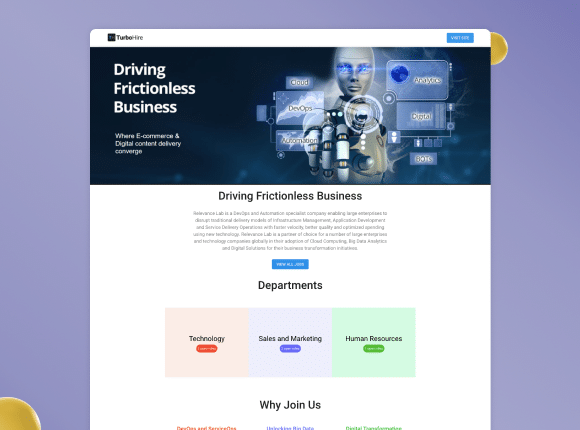 Careers Site
Careers sites are a novel type of job portal that assists candidates with applying to job openings and helps recruiters in providing a channel to find ideal candidates.
Problem
Job creation for recruiters not just means defining the job page but also internally collaborating and generating candidates from Premium Job Boards.
How we solve
Recruiters can use TurboHire to create a job, promote it, and find the best candidates using AI-based skill matching, while candidates can drop their resumes.
HR Toolkit
HR Toolkit by TurboHire addressed the documentation needs of HR professionals, consisting of an easy-to-use collection of multi-purpose templates and checklists.
Problem
HR oversees a vast majority of functions in a company and should not be burdened with paperwork and even worse, the composition of emails, policies, or job descriptions.
How we solve
Our HR Toolkit consists of templates and checklists that are used for documentation and communication of policies, job descriptions, interviews, and HR surveys.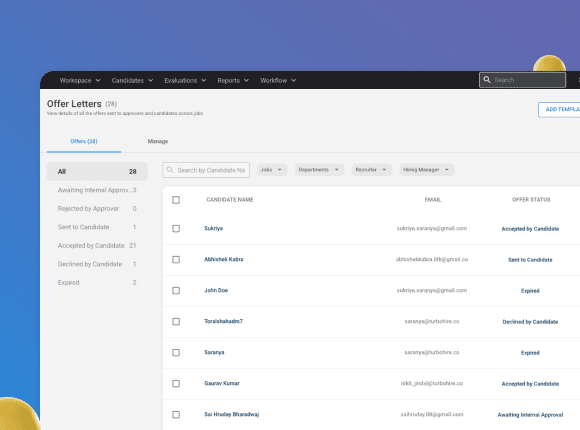 Offer Management
TurboHire's offer letter module automates the processes involved in the final stage of hiring, right after a candidate is selected and before they are onboarded.
Problem
Creating, releasing and getting offer letters signed can get tedious; one frivolous mistake might mean repeating the whole process.
How we solve
TurboHire helps recruiters by not only automating the offer letter process but also with live status updates of the offer letter.
Referrals
Referral is one of the most effective and trusted means of the recruitment process and an internal method for finding job candidates. It's secure and trustworthy!
Problem
When hiring without referrals, the offer acceptance to joining rate is a lot lower, which means increase in the average time to hire.
How we solve
Our referral program allows recruiters to source candidates by allowing existing employees in an organisation to refer candidates from their networks.
Email & Text Automation
TurboHire's communication workflows have been crafted with extreme care to provide recruiters with the ability to communicate with candidates at scale.
Problem
Did you ever consider standardising communication with candidates across the lifecycle by utilising the template functionality?
How we solve
Automate email and text replies and reminders at 3 levels: individual candidates, selected candidates via Kanban Board, or bulk level selection.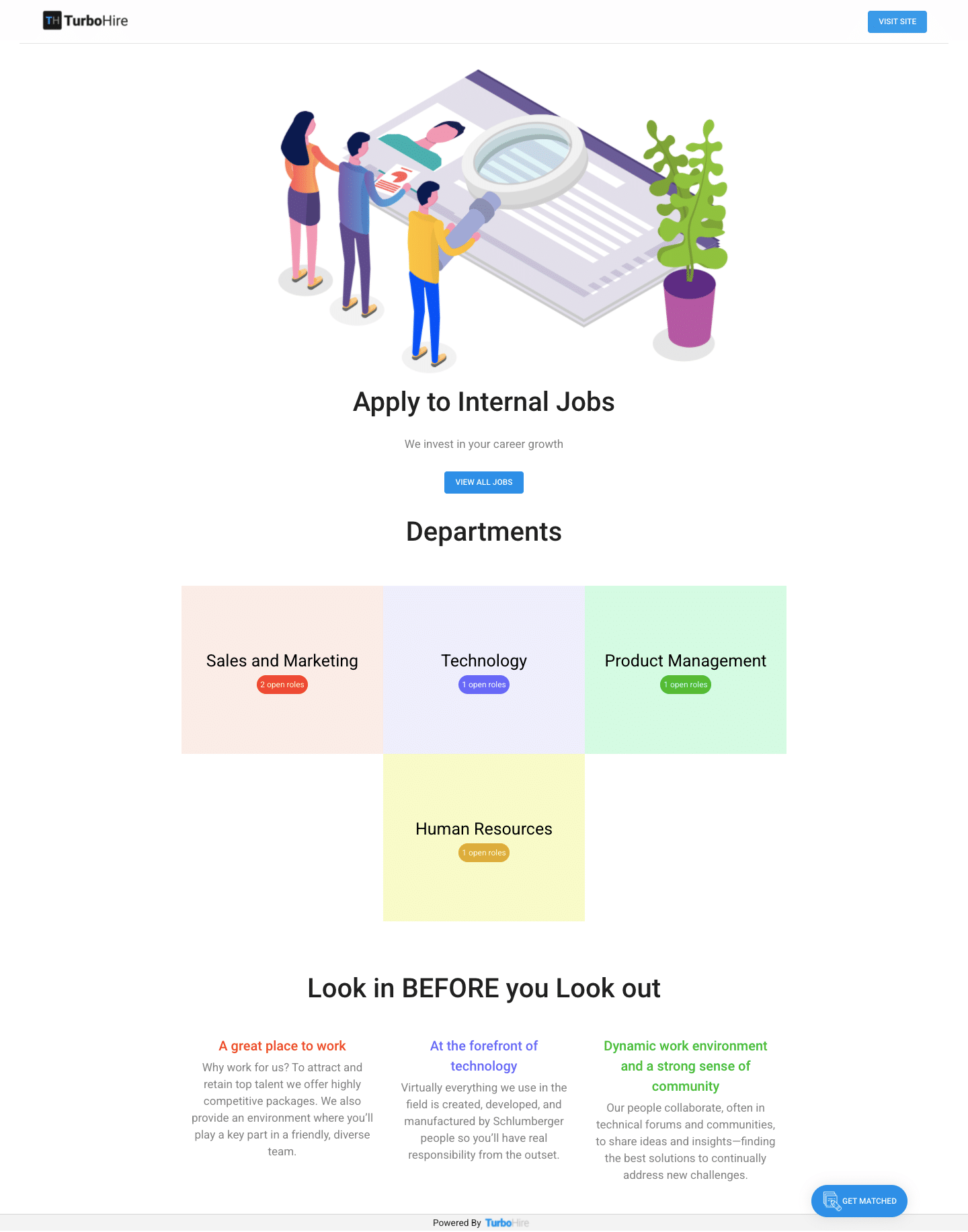 Internal Job Posting
We provide recruiters with the ability to allow for filling job openings by allowing for internal recruitment and mobility.
Problem
If a recruiter wants to open a job via internal job posting, it is often unstructured when making internal transitions to available jobs.
How we solve
Every job in TurboHire is provided with a referral link that will allow employees to refer their friends and people from their network for the jobs.
Transform your recruitment: One hire at a time
Bring a change in your recruitment strategy and process today that can yield you a much higher ROI. Don't take our word for it, hear from our customers. We have been rated highly by customers for Ease of Use, Quality of Support, Ease of Setup.
Trusted and loved by recruiters globally
Explore our other solutions