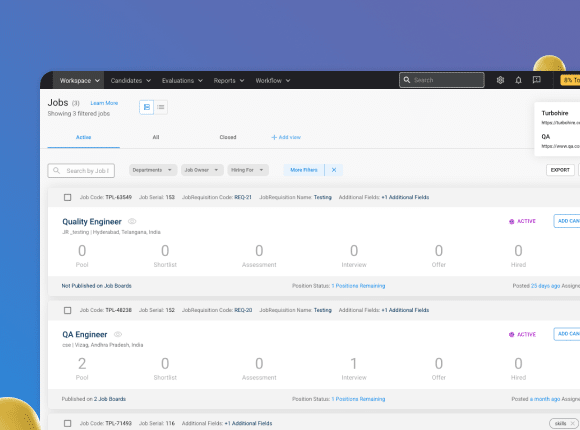 Multi-Accounts
In case you want to use TurboHire to manage multiple recruiting teams, one can easily switch between multiple company accounts based on geography.
Problem
However, switching between more than one company account without a self-serve portal becomes a roadblock to management.
How we solve
With TurboHire it is easy to access them all simultaneously. Switch among multiple job boards with unconsolidated candidate data and easy tracking.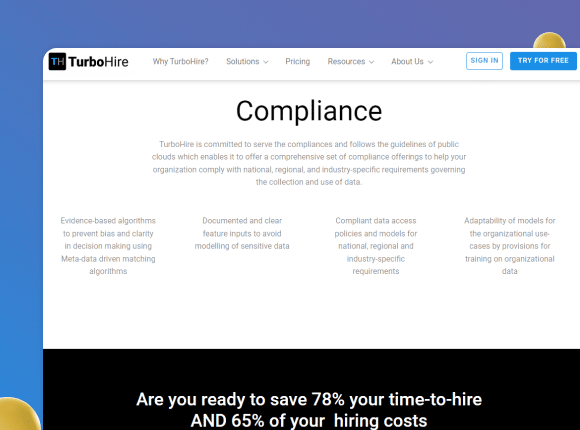 Compliance
Experience a military-grade security of customer data. Stay compliant with global data privacy rules. TurboHire has also received a CIS, ISO27001 certification.
Problem
Recruiters are often concerned about data access segregation and desire for a full-encryption on demand.
How we solve
With TurboHire you can enjoy routine data backups and disaster recovery checks with encrypted communication between customer and cloud.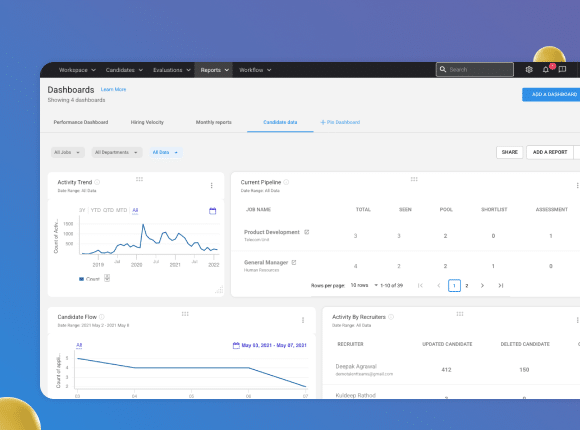 Dashboard & Recruiting Reports
Visually track, analyse and display key performance indicators (KPI), metrics, and key data points with TurboHire's customised dashboards and recruiting reports.
Problem
Without proper data, hiring teams often tend to spend an ample amount of effort and time on a single phase of the recruiting process.
How we solve
Capture candidate activity, recruitment progress, discover bottlenecks, and more. Recruiters can set up activity plans based on the report results.
Internationalisation
Easily localize the platform to multiple geographies
Problem
Every geography has its own configuration requirements from time-zone, currency, phone codes. Manually setting up systems to meet the requirement is often very difficult for IT Teams
How we solve
TurboHire allows organizations to launch hiring platform in multiple geographies with out-of-box configuration optimized across geographies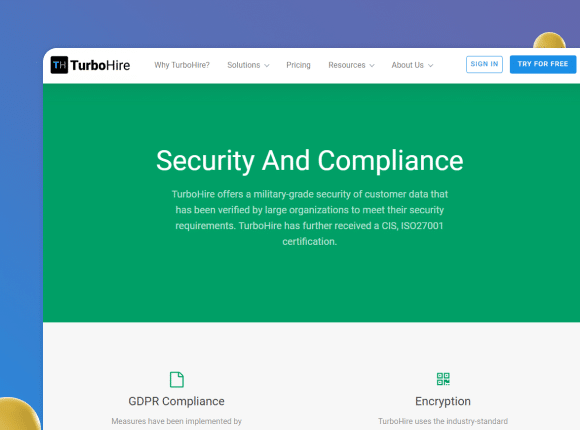 Security
TurboHire ensures data stored by a customer is only accessible by them; further providing customers with strong data security, both by default and as an option.
Problem
Worrying over mechanisms of private and shared cloud environments for customers should not be a modern recruiter's concern.
How we solve
TurboHire uses SHA256 encryption for data at rest. TurboHire is also ISO/IEC 27001:2013 certified for information security management system (ISMS).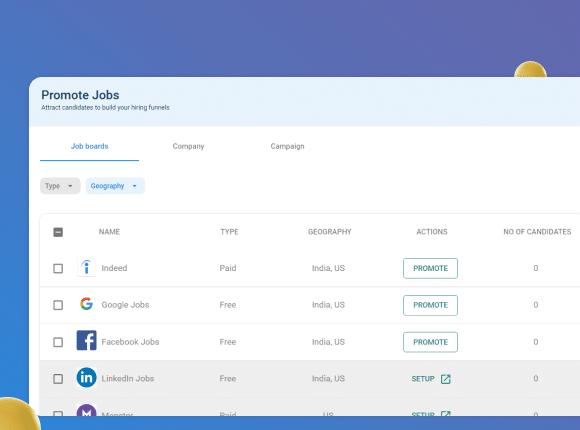 1-Click Promotion
1-Click Promotion is a TurboHire feature that allows candidates to submit their resumes to job boards at a single click.
Problem
Don't you wish applicants could simply scroll through your job ads and find a one-click apply button for each and every job that interests them?
How we solve
Recruiters can market to job boards in a single click and track multiple sourcing channels with TurboHire. Collaborate internally and generate candidates from Premium Job Boards.
Transform your recruitment: One hire at a time
Bring a change in your recruitment strategy and process today that can yield you a much higher ROI. Don't take our word for it, hear from our customers. We have been rated highly by customers for Ease of Use, Quality of Support, Ease of Setup.
Trusted and loved by recruiters globally
Explore our other solutions