Recruitment has always been a time-consuming process for recruiters and hiring managers. However, with the advent of technology and the influx of AI, automation is transforming the HR tech industry. One such platform that is changing the game is TurboHire. 
Launched in 2019, TurboHire is an AI-powered recruitment automation platform that automates 85% of the hiring process. Headquartered in Hyderabad, India, the company has clients globally, including India, the UK, the USA, Sweden, Singapore, Australia, Indonesia, and more. In this article, we explore how TurboHire can seamlessly be integrated with SAP SuccessFactors, and how it can transform your recruitment process. 
TurboHire's solution types and technical components
TurboHire combines AI and automation to make attracting, sourcing, screening, interviewing, and onboarding talent for a position easy, transparent, and globally compliant. It seamlessly integrates with SAP SuccessFactors to introduce intelligent automation for recruitment. TurboHire is available as API and Technical Components that works with SAP SuccessFactors. 
System of Automation
It's worth noting that "system-of-automation" is a key term coined by TurboHire thus allowing us to define this category of software vertically focused on recruitment. There is a broader market for Robotic Process Automation (RPA) which is function agnostic but TurboHire is the first attempt to build a vertically-focused RPA system for recruitment. This system-of-automation will also create an Applicant Graph in the future which will be very valuable for enterprises.
TurboHire impact for SAP users
SAP SuccessFactors is a popular recruitment management solution and system and the integration of TurboHire can bring significant benefits and changes to the hiring processes of SAP users. Here are some of the benefits that TurboHire can bring for SAP users:
Discover talent 5 times better

: With artificial intelligence, TurboHire contextualises the candidates' experience with the job requirements provided by the recruiters through calibration feature of preferences. 

Reduce the cost of bad hires

: By utilising the combination of AI and automation offered by the TurboHire integration, recruiters can focus on the crucial human-to-human tasks of recruitment, allowing them to evaluate and onboard the best talent while minimising the cost of bad hires.

 Optimise time-to-hire by 78%: With 85% automation across the the entire recruitment process, TurboHire enables recruiters to execute tasks in an automated manner while reducing the number of times tasks need to be performed. As a result, the time-to-hire can be optimised by 78%.
Module-wise Benefits of integrating SAP SuccessFactors with TurboHire
TurboHire is built on top of a fully stacked ATS and CRM and it has 5 majorly focused modules that differentiates the platform from other recruitment tools. Let's take a closer look at each module:
Talent Sourcing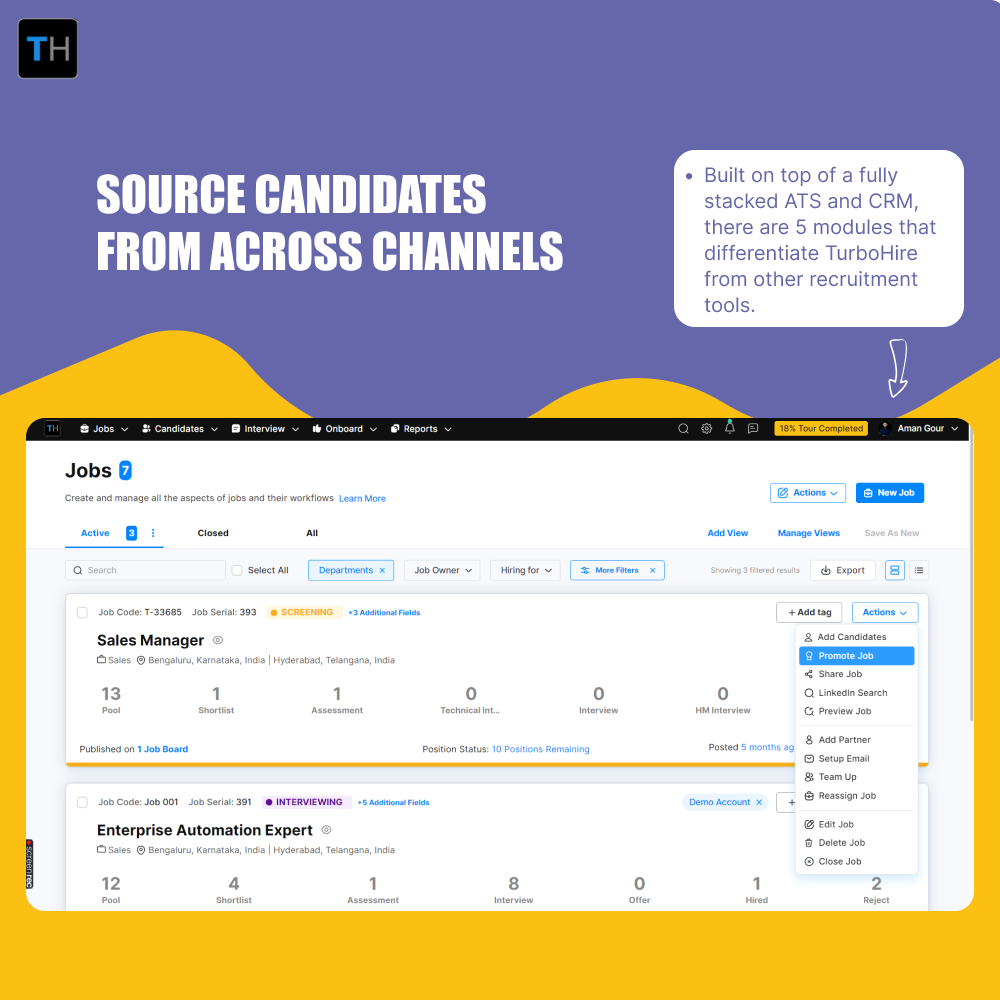 The number of systems used by recruiters today is increasing and so is the difficulty in managing these multiple software systems that don't talk to each other. Hubspot built a great software that combined all the customer data across sales, marketing & CS under one roof. Similarly, Rippling combined all the employee data from all existing systems into a single platform.
However, still, the applicant data is dispersed across emails, ATS, LinkedIn, Assessment Tools, and Background verification tools to name a few. We believe that it's a natural progression to create a system of record for applicant data that becomes a source of truth. There are many benefits of having centralized applicant data one being the ability to engage with past applicants through consistent engagement to create a talent pool. 
TurboHire recruiters can source candidates from all inbound and outbound channels for active and passive hiring and for external job posts and internal mobility.
Talent Screening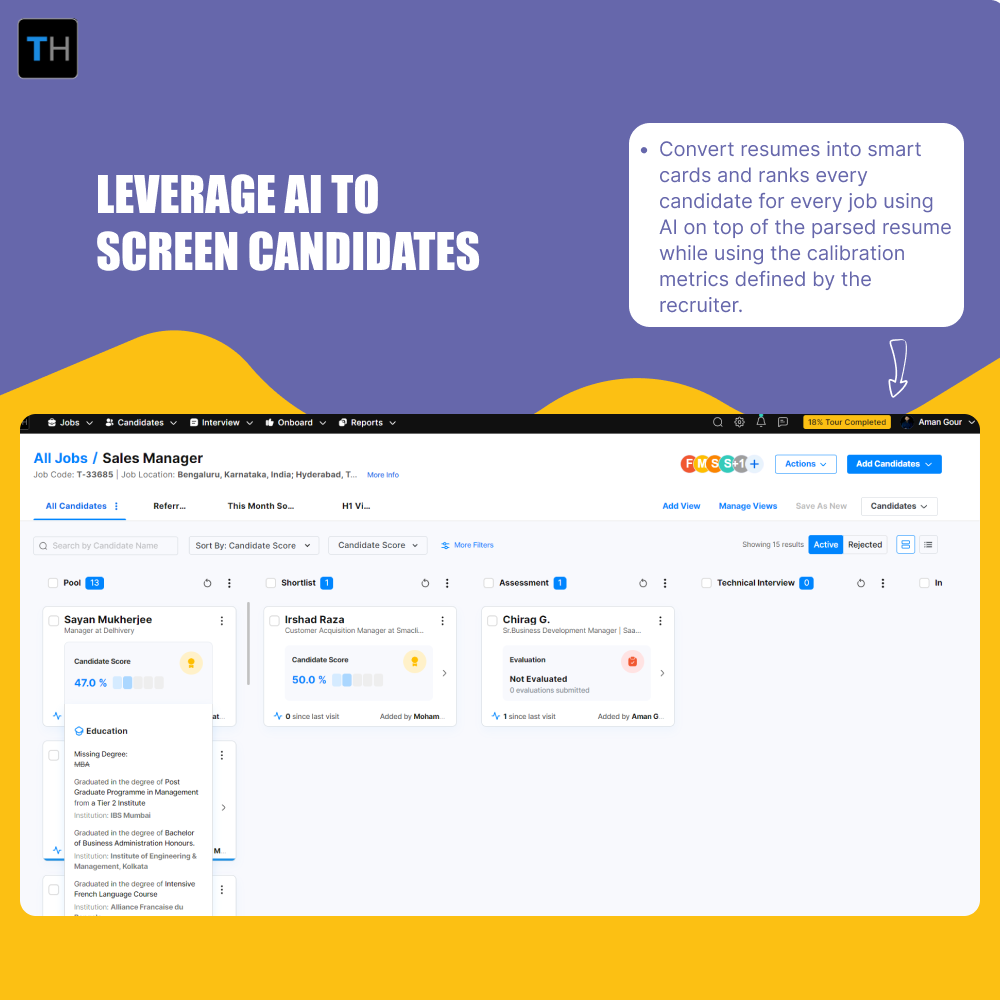 The talent intelligence of TurboHire first converts the resumes into smart cards, allowing for effective entity search on the database. The job boards have built this kind of search but once the candidates used to appear in the ATS software the data richness would get lost in transmission. 
Additionally, this allowed for the creation of searchable-data sets even in the case of candidates from other sources like referrals, vendors, and careers pages unlocking a lot of value for organizations' own proprietary datasets. These smart profiles didn't limit themselves to the information mentioned in resumes and enriched the data further to improve the search. The same Talent Intelligence stack that is currently being used for Recruitment can be utilized for Talent Management.
Candidate Engagement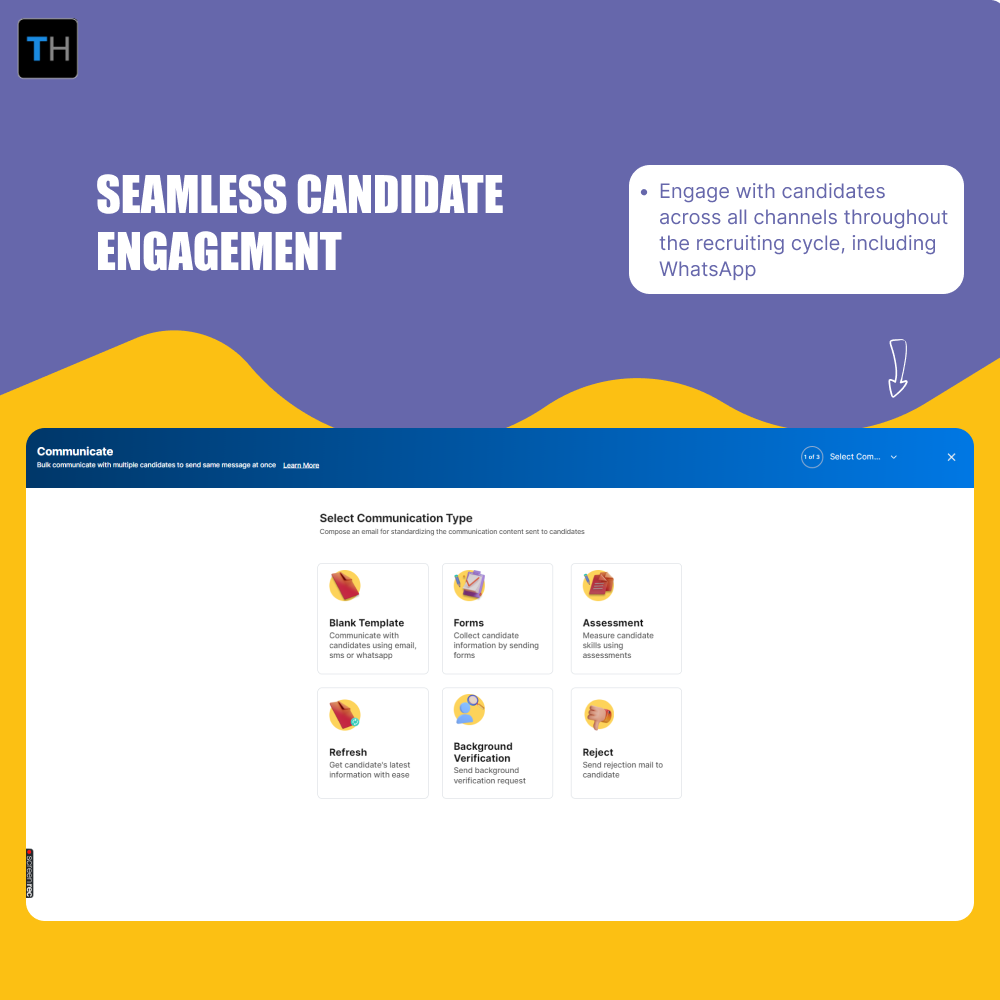 Communication is the key when it comes to building a strong employer branding perception with candidates as well as when keeping good talent engaged. TurboHire enables recruiters to engage candidates across all channels throughout the recruiting cycle, including WhatsApp.
During the interviewing process, the interviewers want to have easy access to candidate information like a resume, statement of purpose, and previous evaluations. TurboHire makes it easy for recruiters to share all of the required information. Additionally, post the interview the platform provides an easy way to provide feedback about the candidate making the entire decision-making process easy & intuitive.
Interview Automation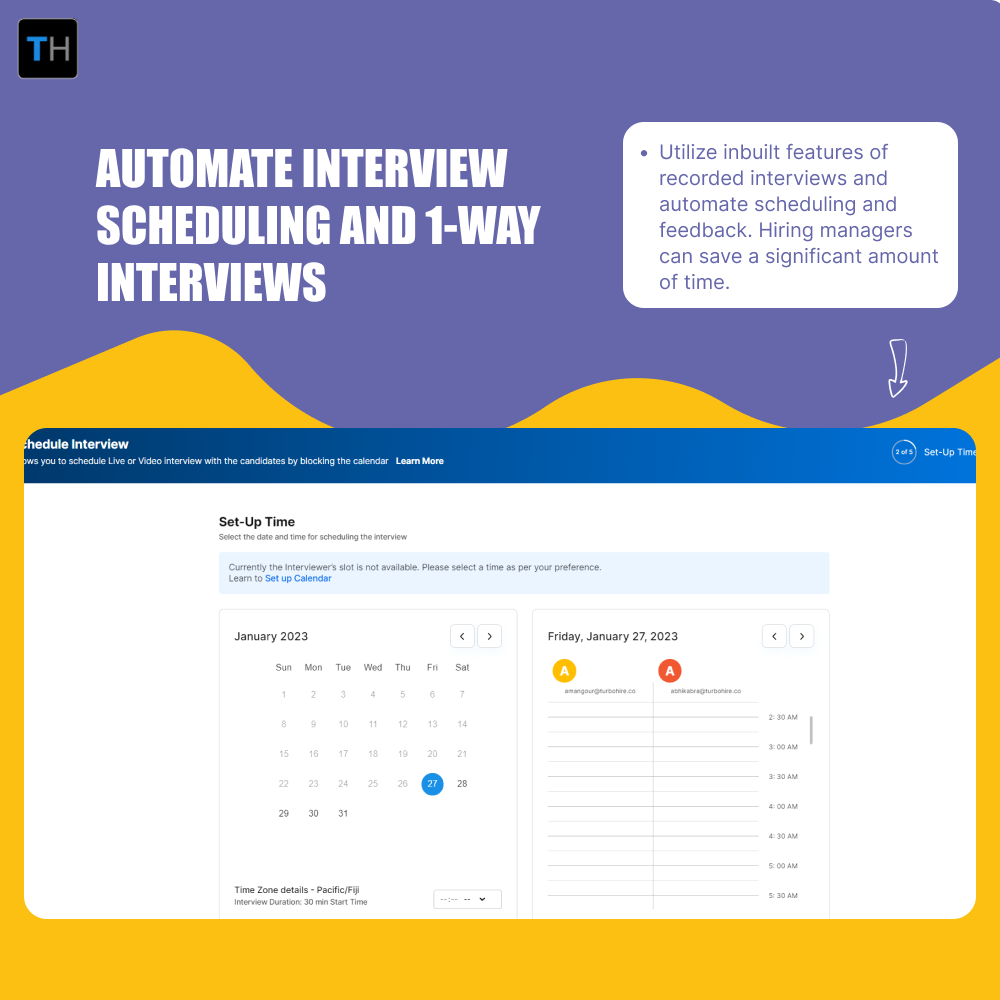 Chasing candidates and hiring managers for a mutual time to schedule interviews can be quite a challenging task. Utilising the platform's in-built features for recorded interviews and by automating the crucial processes for scheduling and feedback, recruiting and hiring managers can save a significant amount of time. 
TurboHire integrates the calendar of recruiters, interviewers, and candidates to effectively allow for the scheduling of interviews. It further goes a step ahead to automatically schedule interviews using a chatbot that does time broking between interviews & candidates. This scheduling mechanism allows effective measurement of data of schedule which is very important for high-volume recruiting.
Offer-Onboarding & Recruiting Reports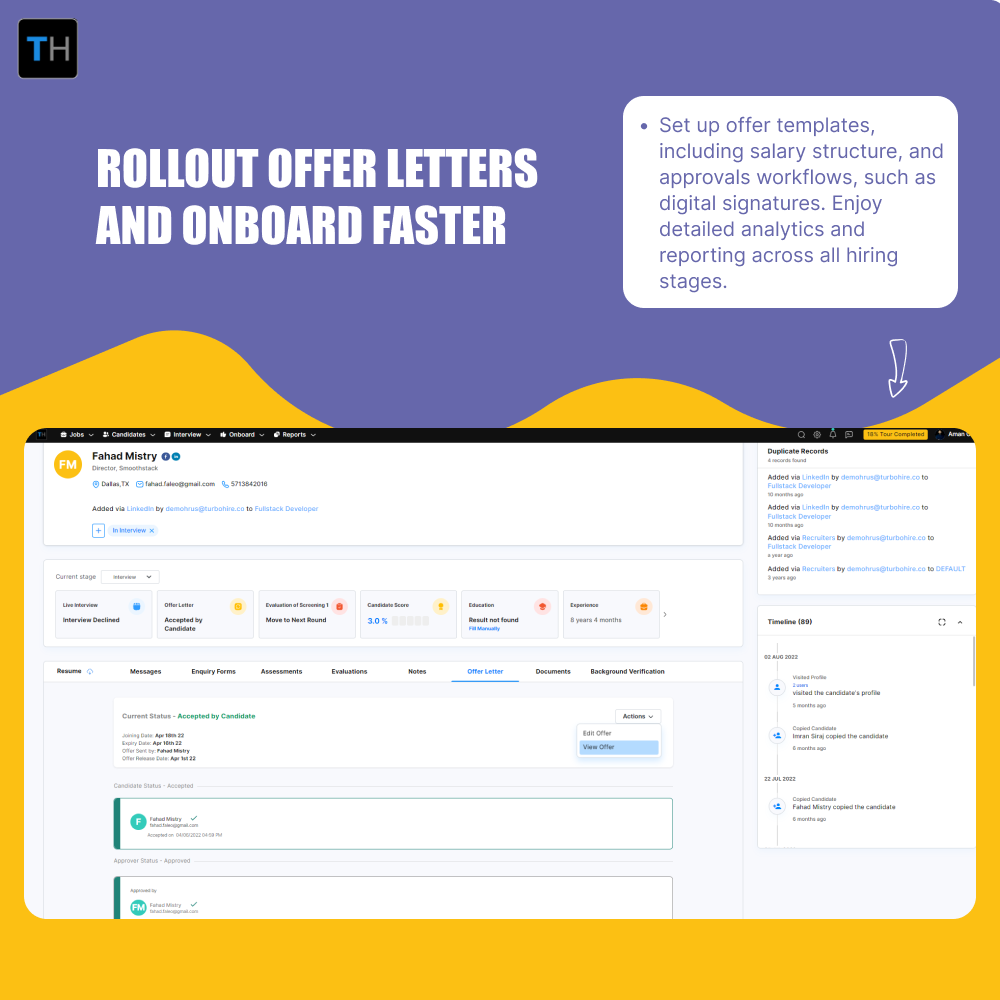 Using TurboHire as an integration on top of SAP, it is possible to set up offer templates including salary structure and approvals workflows such as digital signatures. 
Additionally, did you know that TurboHire also provides detailed analytics and reporting to SAP users across all stages of the hiring process executed through the platform. These are real-time recruiting analytics across source to hire with configurable & share-able dashboards.
Plans and Pricing of TurboHire
TurboHire's Enterprise Edition is now available for SAP SuccessFactor users, offering a comprehensive recruitment automation solution. 
This edition includes an Applicant Tracking System for effective tracking of applicants and maintaining candidate records, Candidate Sourcing for sourcing unlimited candidates from all inbound and outbound channels for active and passive hiring, Talent Screening for converting unlimited resumes into smart cards and ranking every candidate for every job, Candidate Engagement for engaging candidates across all channels throughout the recruiting cycle, Interview Automation for utilizing recorded interviews and automating scheduling and feedback processes, and Offer & Onboarding for setting up offer templates and approval workflows with digital signatures. 
The Enterprise Edition also includes real-time recruiting analytics across the source to hire with configurable and shareable dashboards, and it requires a minimum 12-month contract duration and includes one super user.