Hiring bias is a colossal issue at work, particularly in areas such as hiring and promotion. The typical norms of hiring employees especially in a corporate recruitment process are profoundly defective and without a doubt tragic. The ultimate goal to indulge AI in controlled hiring bias is to expand the scope of hiring to include diversity in attributes such as gender, sexual orientation, color, experience, privilege, education, etc.
Recruiters and HR organizations are reconsidering how they recruit to construct a faster and more efficient way of hiring.
In an ideal world, the choice to enlist an applicant would be founded exclusively on their capacity to carry out the responsibility well. The recruit would be drawn nearer in a target, down to business way, liberated from subjectivity and unconscious hiring bias. Be that as it may, we don't live in an ideal world, and as hard as we attempt, now and then we let outside components cloud our judgment. What's more, the thing is, this hiring bias happens whether we need it to or not, it's out of our consciousness.
Diversity or the absence of it is as yet a significant test for tech organizations. Ready to alter the universe of work, as a rule, a lot of recruiters are increasingly using AI-based Talent Discovery & Acquisition platforms to keep away from any bias while recruiting to distinguish better and screen applicants which would help to seal off the diversity gap.
Why is it crucial to Bring Down Hiring Bias?
Removing certain information from CVs, such as the name and gender of the applicant or the name of the school they attended, can help employers minimize the impact of unconscious bias by forcing hiring managers to focus solely on the applicant's qualifications and experience especially when it comes to internal recruitment jobs.
By having CVs assessed by a wide range of stakeholders across the business, including staff at the same level of seniority as the applicant instead of a recruitment associate, employers can ensure that the broadest range of perspectives is gained on the applicant's suitability.
Anti-bias training can also be highly effective, allowing managers to identify areas where they may have their own unconscious biases, helping them to approach recruitment more objectively. This also helps overcome recruitment challenges and solutions can be optimized.
Why Should Your Hiring Process Promote Diversity and Inclusion?
Studies have demonstrated numerous advantages of the diverse and inclusive hiring process:
Higher-income development
Diverse teams are more prominent in the preparation to innovate
Employee retention has proved to be higher by 5.4 times
Expanded capacity to enlist a diverse talent pool
Inclusion in the working environment is perhaps one of the main keys to employee retention. Employers are increasingly coming to recognize the strong business case for improving the level of diversity and inclusion within their workforce.
By recruiting professionals from a range of backgrounds at all levels of seniority, businesses and partner recruitment firms gain access to a wide variety of viewpoints and perspectives. Companies with staff from a broad range of backgrounds have been found to outperform firms with a less diverse workforce.
By attracting and retaining a diverse range of staff, businesses can identify opportunities and explore new solutions which will help tackle recruitment challenges 2022. Developing, implementing, and promoting a diversity strategy is the challenge employers now face.
Securing the most talented professionals will require employers to take on a new, innovative approach to access more diverse talent pools which will act as an exceptional recruitment option.
73% of employers say diversity encourages creative and innovative thinking.
67% of employers believe that diversity is important so that their workforce can reflect the community they operate in.
54% say diversity is crucial to ensure that they are doing business ethically.
51% believe diversity helps introduce staff with unique skills into the workforce.
5 Ways To Attract Diverse Candidates to Reduce Hiring Bias?
Achieving a diverse workforce is dependent on helping professionals from a range of backgrounds find your company. However, many employers focus their recruitment activities on platforms and channels that are likely to deliver candidates from similar backgrounds.
1. Recruitment Consultancies
While recruitment consultancies can be highly effective at helping employers connect with a more diverse range of candidates, more than half of businesses do not currently ask recruiters to provide diverse shortlists, potentially missing out on the opportunity they offer to access more diverse networks.
2. Job Advertisements
Employers should also consider how job adverts are worded, taking care to ensure that the language used does not imply that you are looking for a candidate from a particular background. Proofing tools or glossaries available online can help identify words or phrases that may subconsciously put off professionals from certain backgrounds from applying.
3. Awareness Among Existing Staff
Incentives for existing staff to refer new candidates to the business can also be an effective tool for reaching potential employees. However, almost half (47%) of employers do not use referral schemes to source new staff. By ensuring that your existing staff is aware that you embrace diversity and inclusion as a business you may be able to reach candidates from a broader range of backgrounds which lowers recruitment process optimization.
4. Bringing Down Unconcious Bias
Employers may need to address unconscious bias among their own staff; assumptions that they make about the suitability of a candidate during the recruitment process based on factors that are not related to the role such as age, gender, or background. Given the significant impact, these biases can have on how hiring managers will assess candidates, countering them should be considered a priority.
81% of employers recognize the potential that unconscious bias has to impact decisions, potentially leading them to miss out on top-caliber professionals.
Finding techniques to overcome or reduce unconscious bias should therefore be a priority for employers. However, while there is widespread support for strategies designed to address unconscious bias.
Can AI Help To Remove Unconscious Bias In Hiring?
The most important benefit of using AI-enabled recruitment platforms such as TurboHire is the fact that we can customarily design it to fulfill recruiters' specific hiring needs. To additionally forestall oblivious predisposition at the screening stage, AI enlisting programming can be modified to disregard segment data, for example, sex, race, and age or intermediaries for a race and financial status, for example, the names of schools joined in and addresses.
The role of TurboHire here is to mechanize the recruiting cycle so that every candidate is given a predictable, reasonable, and fair application experience which will further provide a data driven recruitment process. TurboHire combines the power of Natural Language Processing and Data Science to give a human-like AI to Recruiters and HR professionals alike.
Since AI screening and hiring programs depend on the information, you have the ability to control what information the program is acquiring from the data provided. In case you're worried about hiring bias entering the cycle, you can set the program to prohibit information and decent variety measurements that demonstrate things like age, race, sex, or area.
7 Ways Recruiters Can Reduce Hiring Bias Using AI in Recruitment?
In today's business landscape, diversity in hiring and the workplace is a necessity. Various surveys reveal that 62% of participating executives rated diversity and inclusion as a high or top priority.
Diverse organizations are often more successful than others.
Diversity is achievable when there is a fair opportunity for all regardless of different races, ethnicities, genders, ages, religions, disabilities, and sexual orientations. For companies to support inclusion there must be a visible collaborative, supportive, and respectful environment that increases the participation and contribution of all employees.
At the very first stage when hiring, HR's involvement in ensuring diversity and inclusion cannot be understated. The issue stems from the fact that the traditional process of hiring involves people bound by their thoughts and practices, which leads to inclination towards a particular gender, race, age, religion, etc, the result of which is biased decision making. The process demands change and a more progressive thinking pattern. No matter how much this is pushed on to someone, things are bound to remain the same unless this unconscious bias in the hiring process is pushed away.
The only solution is replacing manual practice with technology which will bring about digital transformation in recruitment as a machine evidently does not follow any preconceived notions.
With this seemingly inexorable wave of brand recognition and success, every organization wants to maintain diversity and inclusion. Here's how recruiters can reduce hiring bias using AI in recruitment:
AI in recruitment is viable to reflect the desired results. Not only does it help to streamline the day-to-day hiring processes, but the machine also does not show an inclination towards any particular gender or community.
The data it fetches is only based on the parameters set by HR to match a candidate who is a good fit for the role. And we all know, a good fit is a good fit!
Not only that it has a noticeable positive impact on businesses' top and bottom lines, employing such a practice is indispensable.
While some companies still repudiate the use of technology in hiring, the majority show good support.
When screening is done mitigating any bias, it gives equal opportunity to all applying for a job. Not only such a technology is convenient to use, but it also allows candidates to showcase their talent without fear of bias or human error.
Also if you feel that is a need to add more people from a particular gender to reach a 50-50 proportion, you can do an internal communication on the tool itself.
HRs have the flexibility to involve the decision of various team members efficiently using an AI-based tool in recruitment keeping all on the same page.
4 Tools That Aid Diversity And Inclusion In Hiring
As candidate behavior evolves, employers must adapt to new recruitment update in order to increase the range of candidates they reach. 45% of employers believe their current recruitment tools are ineffective at helping a diverse range of candidates find their company.
Here are 4 tools and techniques that could help draw in diverse candidate pools:
1. Web Crawler Software
Web crawler software trawls networking sites, gathering data on jobseekers from a range of sources to determine who meets the requirements for a role, allowing employers to find candidates beyond their usual talent pools.
31% of recruiters have considered Web Crawler Software useful.
2. Accessible Website
While employers recognize that a website accessible to those with disabilities would be effective in helping them access new talent pools, just 37% currently have a website with this functionality.
72% of recruiters have found accessible websites useful for hiring diverse candidates.
3. Proofing Tools
Proofing tools can identify the language in job adverts or job descriptions which may discourage applicants from certain groups.
54% of recruiters have considered proofing tools to be useful.
4. Gamification
Elements of gamification in the recruitment process can encourage applications from candidates who would be discouraged by traditional recruitment processes, by identifying core skills in a way that engages applicants.
39% of recruiters have considered gamification techniques.
Why should recruiters use AI to remove hiring biases?
1. AI can completely get rid of unconscious human bias while hiring
The most important benefit of using AI-enabled recruitment platforms such as TurboHire is the fact that we can customarily design it to fulfill recruiters' specific hiring needs. To additionally forestall oblivious predisposition at the screening stage, AI enlisting programming can be modified to disregard segment data, for example, sex, race, and age or intermediaries for race and financial status, for example, the names of schools joined in and addresses.
Since AI screening and hiring programs depend on the information, you have the ability to control what information the program is acquiring from the data provided. In case you're worried about hiring bias entering the cycle, you can set the program to prohibit information and decent variety measurements that demonstrate things like age, race, sex, or area.
According to a study by Proceedings of the National Academy of Sciences of the United States of America, it has been demonstrated that competitors with unequivocally minority-distinguished names actually get somewhere in the range of 30 and 50% fewer callbacks and meeting offers than "white"- sounding partners numbers that have remained generally unaltered in the course of the last twenty years.
That there's still so much hiring bias based on race in employing is unbelievably disturbing but thankfully with the help of AI, it is fixable. An AI-based screening program that doesn't have our imbued social and individual inclinations is greatly improved at filtering through information alone.
2. When using AI, the whole pool of applicants will be reviewed rather than a selected 20%
Computer-based intelligence can screen thousands – even millions – of resumes immediately. Programming that utilizes AI can diminish oblivious bias by utilizing AI to comprehend what the capabilities of work are. Artificial intelligence does this by examining representative resume information instead of depending on general guidelines, for example, the school somebody moved on from and afterward distinguishing resumes of applicants who fit the profile.
It is stunning that HR organizations audaciously concede how just a little part of a great many candidates who apply are ever looked into. Technologists and legislators should cooperate to make apparatuses and arrangements that make it both conceivable and obligatory for the whole pipeline to be looked into.
3. The utilization of AI and Machine Learning for the pursuit of employment would diminish the time and cost for both organization and the applicant
Artificial intelligence spares time by keeping the records as such which leads not to do the rehashed occasion. The common method of enrollment happens to invest enough energy to screen the resume of applicants. Also, such screening of resumes is a monotonous undertaking. Similarly using AI reduces the cost of the organization as the recruiting process takes place in qualitative behavior and the recruitment branch is eased while also providing an a to z recruitment solution.
Statistics To Show How Recruiters Feel About AI-Powered Hiring
data by Ideal.com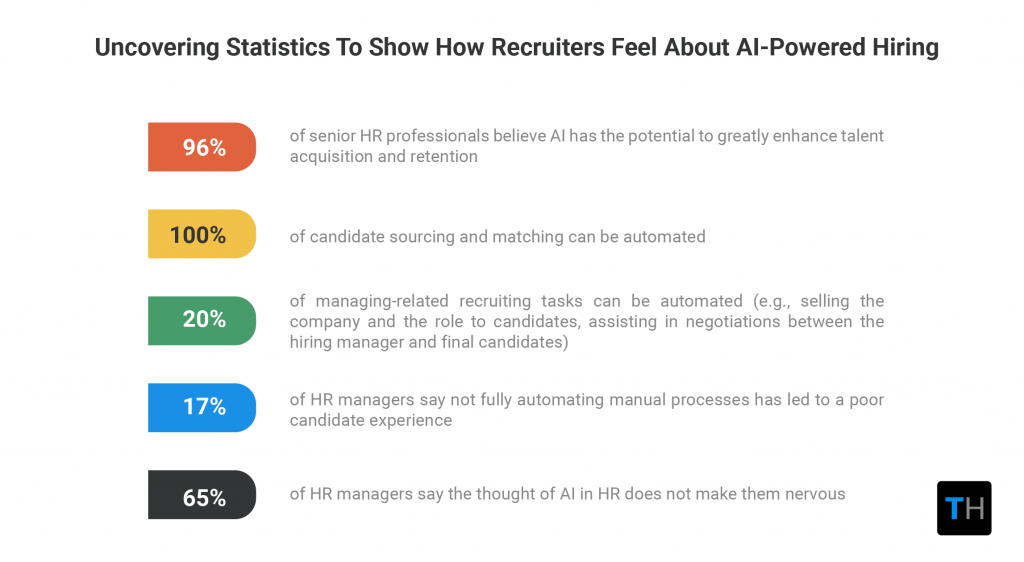 96% of senior HR professionals

believe AI has the potential to greatly enhance talent acquisition and retention

100% of candidate sourcing

and matching can be automated

20% of managing-related recruiting

tasks can be automated (e.g., selling the company and the role to candidates, assisting in negotiations between the hiring manager and final candidates)

17% of HR managers

say not fully automating manual processes has led to a poor candidate experience

65% of HR managers

say the thought of AI in HR does not make them nervous.
Is There Room For Further Improvement In Reducing Hiring Biases? We Say, Yes.
Like electricity, technology is neutral, however, it can only get as good as the individuals who assembled it and the information it's prepared with. While AI isn't characteristically one-sided, whenever prepared on information that reflects predisposition, the machine will copy the very issue we are attempting to explain.
For example, in 2014, Amazon started using a male-biased hiring algorithm that downgraded women graduates. In simple words, the AI algorithm has somehow learned to see women as weak competitors.
The algorithms of these AI applications should be written in such a way that they are incapable of producing biased results and must be kept updated and regulated timely. On the off chance that we will call for impartial AI, which we totally should, we ought to likewise require the end of all biased conventional evaluations. It is difficult to address human inclination, yet it is certifiably conceivable to distinguish and address predisposition in AI.
Workplace Diversity Begins With Inclusive Hiring
The merging of neuroscience and AI has created certain outcomes regarding helping associations, even the odds for women and minorities. Artificial intelligence is additionally indicating guarantee regarding helping associations pull in more women to specialized positions.
For example, Cisco, a multinational Networking Hardware company gives credit to AI for hiring more women and non-white employees than ever. There is an increase of 10% more women employees and posts getting filled in no time.
The human brain isn't intended for the kind of pattern acknowledgment that can be generally useful in settling on employing decisions. For instance, the vast majority would have the option to run through an elite of the numerous attributes they want or maintain a strategic distance from in an ideal competitor, however, would have no clue about what the overall achievement or disappointment rate is of individuals who show those qualities. They along these lines don't have any hard information to legitimize their choices whatsoever. Computer-based intelligence and AI investigation, in any case, can give hard information that either affirms or denies recruiters', employing administrators' or executives' convictions about the sort of hiring they ought to make.