The process of screening candidates is one of the most time-consuming processes of the recruitment cycle. On average, a company receives more than 250 resumes for a single job opening. Out of these, only 12% to 25% are qualified candidates and the rest need to be screened out. According to some estimates, it takes up to 23 hours to make a single hire. The time spent on screening resumes regularly takes up the biggest part of time-to-fill. With the present serious competitor-driven talent market, top candidates just stay available for 10 days in the job market. This is where Candidate Ranking comes to the rescue.
How Does Candidate Ranking Help in the Screening Stage of Hiring?
The best way to initially screen candidates quickly is to choose the top-ranked scorers on pre-employment tests and pick them out for resume review and interviews. Candidate Ranking is a hiring technology that rapidly figures out which candidates are the best fit for a job opening, and puts these applicants in the top spot of the resume bank. Studies suggest that 75% of candidates are not equipped for the job they apply to, which makes additional work for recruiting experts who need to go through their resumes. Instead of going through hundreds of resumes manually, candidate ranking would allow you to go through only the best resumes that match your job requirements.
What is the significance of Candidate Ranking in hiring?
Candidate Ranking mostly uses a scoring framework in your hiring process. Every applicant gets a score dependent on how well they meet your defined requirements and specifications. Candidates are ranked as indicated by who is the nearest match to what the company is searching for.
The highest-ranking candidates after a round of reviewing of all the resumes and CVs will be shortlisted for the interviewing stage of recruitment. Candidates can be further scored and ranked based on the answers given by them, during the interview. These scores are added to the ones from the past round to refresh the candidate ranking. This makes it simple to ensure your hiring choices and easily compare candidates.
What are the benefits of Candidate Ranking in hiring?
There are three major benefits to using a Candidate Ranking system for shortlisting candidates. They are as follows:
1. Candidate Ranking eliminates human bias
Unconscious bias is something that we've all practiced at some time or the other, without our knowledge. The introduction of a candidate ranking system in the recruitment process ensures that the practice of unconscious bias is avoided under all circumstances. That is on the grounds that you're focussing on the skills needed for the work, and not paying attention to things like where the candidate attended a university, or where they grew up. This puts all applicants on an equal playing field.
2. Candidate Ranking is independent of one's memory
It is not possible for recruiters to remember all the candidates that they have interviewed. Note-making during an interview may be productive for some, however, in most cases, hiring managers do not have enough time to review these notes. When you are in a complete recruitment cycle and screening candidates day in and out, forgetting specific details about some candidates is very usual. When you have a candidate ranking system, it's clear to you which candidates are most valued and which are not.
3. Key Skills are focussed on in Candidate Ranking
Candidates that are hired for skills rather than the lack of weaknesses mostly produce better results. The introduction of a candidate ranking system in the hiring process ensures that candidates are only hired on the basis of the skills and talents they possess. By using a candidate ranking system, you will have a clear view of all the top candidates that match the specifications provided by the company.
Can you rank candidates with the help of Artificial Intelligence (AI)?
Yes, it is possible to rank candidates with the help of artificial intelligence (AI). The concept of a candidate ranking system can be merged with Artificial Intelligence (AI) and Machine Learning to produce even better results. How?
This kind of system can quickly distinguish the most important and ideal candidates for the same job position.
The framework with its hearty abilities go through the job requirements and sources the candidates from across job boards dependent on the desired skills.
It not only assesses the skills of the candidate but also predicts if the candidate will accept the job.
After a careful assessment, the system gives a well-defined list of candidates outlining the match percentages that were found.
By not investing in an Artificial Intelligence (AI)-powered candidate ranking technology, organizations would wind up:
Investing more capital and energy than required on sourcing and screening applicants
Losing the opportunity of hiring the best accessible candidates
Increasing time of hire and unproductive recruits.
Using an Applicant Tracking System (ATS) like TurboHire for Candidate ranking would save your company hours of recruiting time, save millions of hiring costs and exponentially improve hiring metrics.
Is there a tool that ranks candidates in order of qualifications using Artificial Intelligence?
TurboHire's Meta Driven Recommendation Engine for Candidate Ranking
TurboHire is one such Talent Acquisition Platform that uses Meta Driven Recommendation Engine to generate a score for each candidate. It uses independent candidate profiles called smart cards which contain candidate scores. Using this, you can have look at the candidates that have acquired the highest scores who are ranked on top and assess only those candidates manually. This not only reduces the work burden of hiring teams but also reduces the time of hire exponentially.
TurboHire's Automatic Candidate Ranking technology quickly figures out which candidates are the best fit for your open jobs, and puts these applicants at the first spot on your list. Some functions and features of this technology by TurboHire are:
Create your own or automatic candidate ranking.
Customize the candidate rankings.
Display the average statistics based on the candidate rankings.
Display the list of top candidates.
Customize the list of candidates based on company specifications.
Save previous rankings.
Recalculate and update candidate rankings.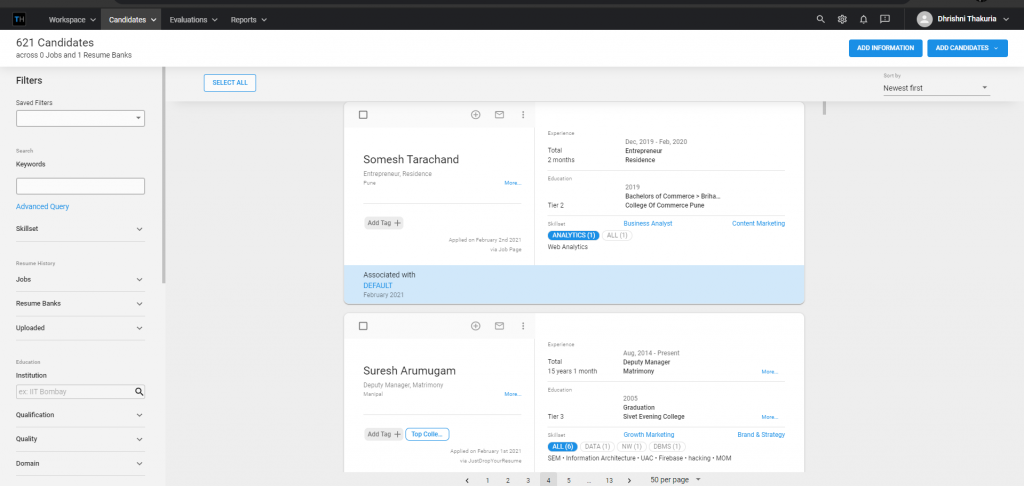 According to a study by TurboHire, most organizations receive 1.5 lakh resumes over a year which accounts for over 300 resumes for a single job. For recruiters to go through this huge pool of candidates is an impossible task. In most cases, more than eighty to a hundred resumes are left unopened. This leads to the loss of quality candidates which affects the quality-of-hire metric. Large enterprises have large databases from which finding the top candidates becomes a very time-consuming process.
Also, learn about Candidate Smart Cards and their benefits in recruiting.
Why should you use an AI-powered Candidate Ranking system when hiring?
Candidates often apply using unstructured resumes or with LinkedIn profiles and job boards.
Candidates are not appropriately matched to the requirements of the job.
Increased redundancy in candidate databases.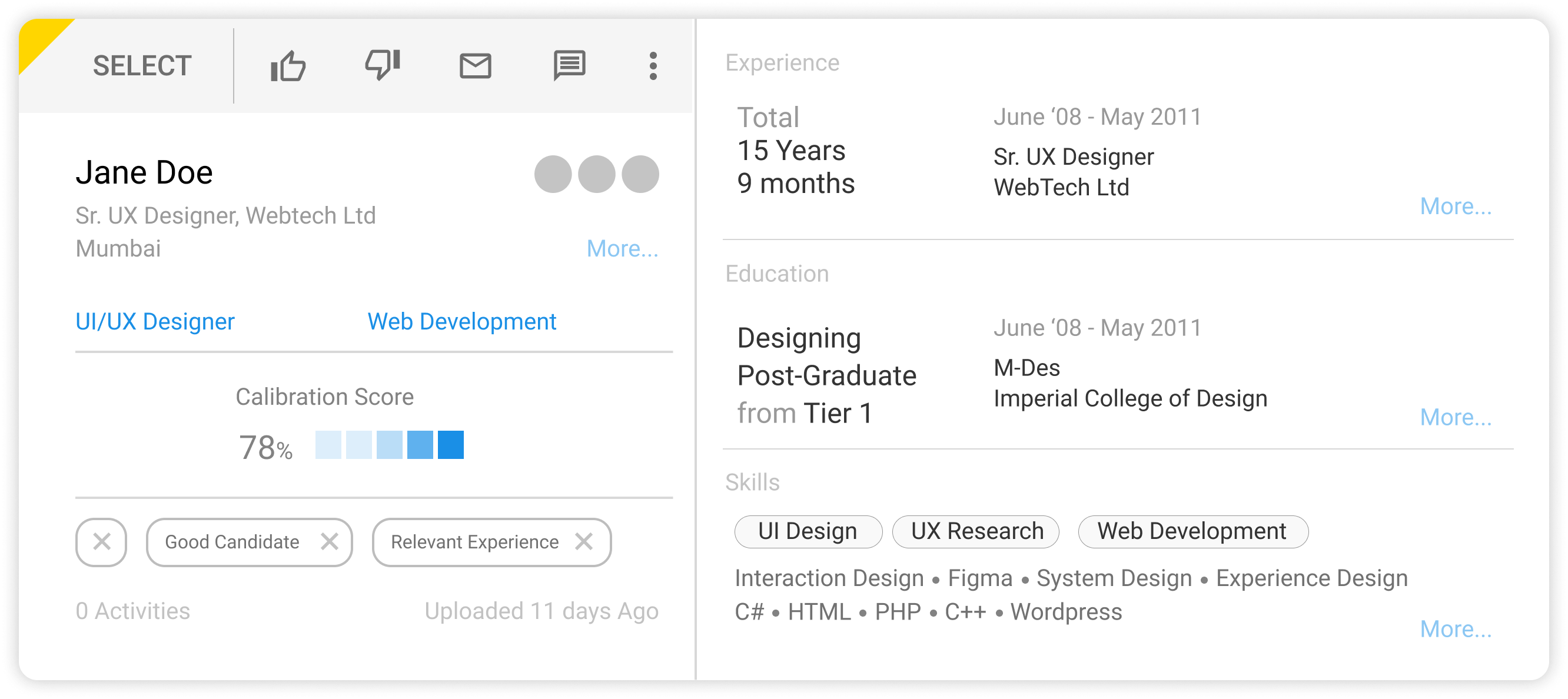 TurboHire's Recommendation Engine offers a solution for all the above-mentioned problems. The huge pool of resumes is parsed into independent profiles called Candidate Cards or Smart Cards. Every candidate is scored on the basis of the job requirements. Finally, candidates are ranked on the basis of their scores, and a list of the topmost candidates according to their ranks is presented. This is backed up with information from their individual smart cards.
The above-mentioned process of Candidate Ranking not only optimizes hiring time but also increases the quality of hire. The platform allows recruiters to find the best candidates for the job and the best jobs for a given candidate. It enhances the process of discovering and rediscovering candidates from the huge pool of applications.
FAQs (Frequently Asked Questions) On Candidate Ranking
1. How much time does it require to rank candidates from a huge database?
TurboHire's automatic engine requires less than a minute to evaluate candidates from a huge pool. In other words, it takes around 30 seconds to assess more than 1000 candidates. Once all the candidates have been evaluated based on their resumes, a scorecard is generated for each candidate. According to these scores, candidates are then ranked to form a shortlist of the top scorers. This whole process takes up to a minute only.
2. What kind of resumes are processed by the Candidate Ranking engine?
TurboHire accepts all kinds of resumes regardless of their formats, for example, jpg, pdf, Docx, etc. The quality of the content of the resume is what matters to the search engine. During the initial stage, resumes are converted into Linkedin like candidate cards or Smart Cards. In the following stages, candidates are evaluated based on their smart cards. Therefore, the format of the resumes or the kind of resumes submitted is not of any significance.
3. How are scores for each candidate generated in the process of Candidate Ranking?
In TurboHire, candidates are ranked on the basis of the scores generated by the Meta Driven Recommendation Engine. When you click on these scores, you can get a detailed evaluation that shows the basis on which the score has been given. This evaluation contains information about the weightage of the various components of the score such as skills, education, and experience.
4. How to compare candidates who have applied for a job opening?
The process of candidate ranking has a close relationship with the process of Candidate Calibration. The first step in ranking candidates is to define the requirements that are expected of the candidates for the job role. Once you have a clear idea of the job requirements, you can customize your candidate calibration properties based on components like skills, education, and experience. This will be followed by the score generation process and will end with a list of the top candidates who will be ranked according to their scores. This list will allow you easily compare candidates based on their scorecards.
5. What is candidate calibration? How is it related to candidate ranking?
Candidate Calibration is the process of setting a certain domain that contains the requirements for a job and then evaluating candidates along with those requirements. This process of followed by candidate ranking. Candidates are ranked with the scores generated during the candidate calibration process. In a broader sense, the selection of candidates to assess for a job takes place in two steps, the first step being candidate calibration and the second step being candidate ranking.