Overview of Candidate Screening
Look back 5-10 years ago, and recruiting teams were all focused on the same thing: attracting more candidates. Now that we've figured out how to get candidates, what do we do with them once they're there?
Time taken to hire a candidate is at an all-time high (~45 days) out of which the time to align candidates for interviews takes almost 35% of the time. In other words, the process of finding relevant candidates for a job is the bottleneck in the current recruiting process.
Candidate Screening as it is commonly referred to is the process of finding interviewable candidates. This process is executed by the recruiters and it involves three sub stages:
Defining the screening criteria
Generating a shortlist of candidates
Communication with candidates for data collection
Current Challenges in Candidate Screening
Technology has made it easy for candidates to apply to jobs easily which has resulted in 3X more candidates per job. On an average 250 candidate applications are processed per hire ٭
Given the volume of resumes received per job, recruiters find it difficult to go through all the candidate applications. This manual process further adds significant delays. Manual screening of candidates leaves a large room for multiple biases to affect decisions around shortlisting of candidates. It also relies entirely on a recruiter's limited knowledge of an ever-expanding universe of companies, institutes, qualifications, types of experiences, etc.
This leads to a direct impact on the candidate – there is a high chance a qualified candidate gets missed due to the sheer volume of applications received.
Business Impact
Technology holds a solution to the challenges of candidates' screening. If the process of candidate screening is optimized, it will have a massive impact not just on reducing the time to hire but also on improving the quality of hires.
Time to hire reduced from 45 days to 27 days
Increased productivity per recruiter with more hiring being done in reduced time
Quality of hire improved by 2 times due to reduced bias and not missing out on great candidates
Improved quality of hire leads to improved performance and delivery in the role and reduced infant attrition, generating direct value for the business?
On the qualitative front, better candidate screening:
Allows you to get back to the candidates in time thus improving their overall experience
In the war for talent where every day counts, tap into the right candidates before your competition does by reducing the time to screen resumes
Allows setting up the right interviews which save interviewers' time
Solving Candidate Screening
The solution to the candidate screening process involves understanding the elements of the process better.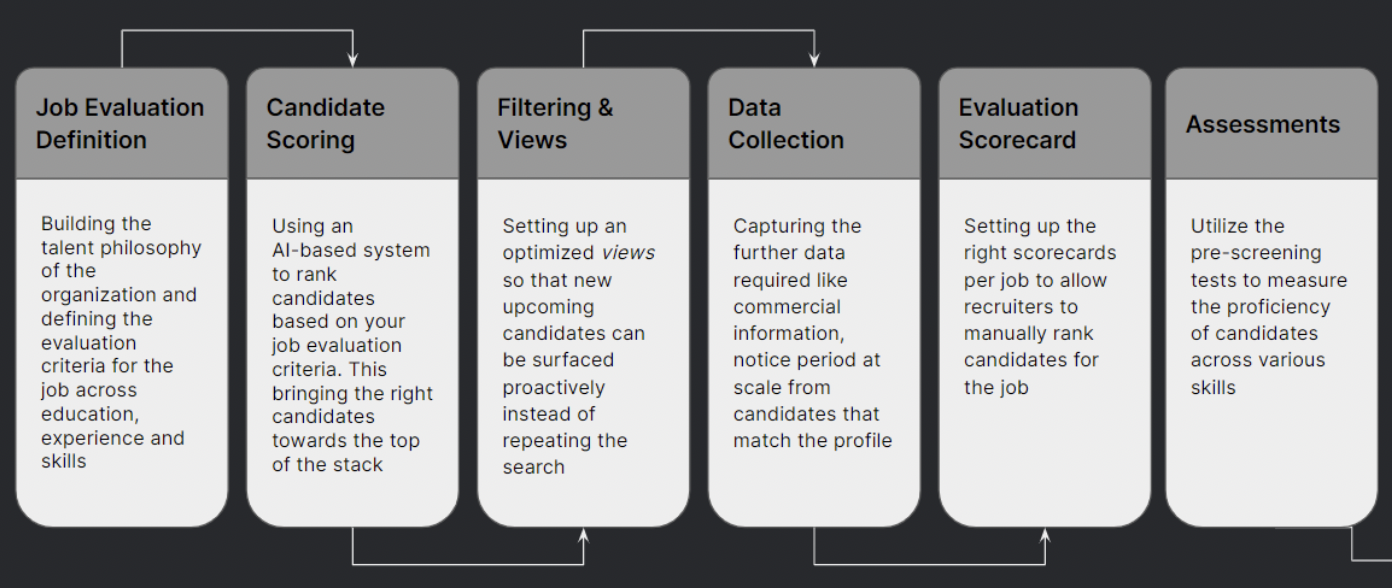 Ideal Candidate Profiles
Today, recruiting is hard because organizations confuse Job Descriptions with Job Evaluations or as we call it Ideal Candidate Profiles.
Job descriptions talk about "What is a Job?" which is relevant for the candidates
Ideal Candidate Profiles on the other hand talked about "Who is the Ideal Candidate?" which is important for the recruiters
Clearly defining the job evaluation criteria is one way to add transparency in the recruiting process which further reduces the bias.
The job evaluation can be defined under three levels
Skills – Must-have and good-to-have skills required for the job
Experience – Years of experience, previous job roles, previous companies, and industry experience required for the job
Education – Any mandatory education required for the job or the kind of institution
Candidate Stack Ranking
As once said by an MIT economics professor, ''No man is better than a machine, and no machine is better than a man with a machine''. AI-powered tools like TurboHire have added huge value in going to the first level of candidate screening. These tools take the ideal candidates' profiles and create a stack rank of candidates with an AI-powered score.
Human-machine collaboration
The word of caution is to not confuse the utility of these tools as the replacement for the human recruiters. These tools are good for reducing the depth of screening.
Example: For a job with 250 candidates, a good candidate can live at the rank of 250 which means a recruiter will have to look at all profiles in the worst-case scenario.
With the candidate scoring tools, you can reduce the depth to Top-5, and Top-10.
With TurboHire, our customers have reduced the page depth to 20, meaning – they are able to find all relevant candidates within top-20.
These stack ranking solutions should also be measured for preventing any bias in recruiting. That's where not just looking at the past trends but also using measurable criteria, often known as explainable AI, comes into play. In simple terms, if the scoring mechanism is giving a high score to a candidate, then it should also make available the reasoning behind the score.
Filtering & Views
Given the dynamic nature of recruiting, organizations continuously keep getting newer candidates, even after the initial shortlist is generated. The best practice to not get overwhelmed by these upcoming candidates without going over the entire database, not just saves time but also allows organizations to not miss on a perfect-fit candidate who applied slightly later.
An effective screening process is built for the practicality of dynamic recruiting. The best way to address the incoming volume of candidates is to build a "Filter View". A filter view is a combination of filters that are saved and that dynamically divides all incoming candidates e.g.
If you want to bring up all candidates coming from source: referral, with a score: greater than 90% and tier: top college – then you can save it as a filter view.
These filter views have proven to be very simple yet effective mechanisms to optimize the screening process
Data Collection
An optimized screening process ensures data collection proactively for the later stages of recruitment.
For example:
Just after the recruiter has created a shortlist, they might want to collect the current compensation & expected compensation from the candidates to give a green light on commercial fitment. A lot many times, these become surprise elements resulting in wasted interviewer and recruiter time for a candidate who might be out of budget.
Not just the compensation, some organizations, make it mandatory to collect important documents & information like Visa right at the screening stage to avoid future surprises. A good screening tool has data collection as a built-in module resulting in massive time and cost-saving.
This allows all data to be systematically stored in a single place that is easily accessible to all relevant stakeholders, rather than relying on notes being maintained on individual excels.
Automated Phone Screening
Calling candidates for the initial level of screening is another bottleneck in the candidates' screening process. While sometimes it is just to collect information like compensation and notice period, in other cases, it measures the communication and other aspects of candidate profiles.
New age screening tools have a built-in feature to create a list of questions and send it to candidates. The candidate then can answer these questions at their convenience and get back with audio & video recordings of their answers.
The automation in phone screening allows organizations to quickly skim through the candidate recordings and focus the energy on the ones that meet the communication fitment criteria required for a job.
Scorecards
To keep the entire recruitment process data-driven, organizations are increasingly using evaluation scorecards as a tool to capture feedback from recruiters on shortlisted and rejected candidates.
These scorecards are filled by the recruiter for every shortlisted candidate, ensuring no bias in the recruiting process. There are some tools that go beyond just a 5-pointer scale and offer a wide range of configuration mechanisms for shortlisting scorecards.
A sample scorecard that covers soft and hard skills required for the job with a clear recommendation collection mechanism from recruiters.
While selection scorecards help organizations measure the reason for candidate selection, rejection scorecards allow them to measure the effectiveness of various sources of candidates.
If you are using recruitment agencies or vendors for sourcing candidates, it is often useful to provide clear rejection data to them so that they can share better profiles. Often a rejection scorecards build on top of the following reasons:

Smart Bulk Communication
They say no-is-better-than-no-reply. This saying couldn't have been more relevant ever than now. Given the fast decision-making process, candidates are seeking quality inputs from recruitment teams at the screening and interview stages which allows them to improve in their job-search journey.
By sending timely communications to shortlisted candidates, organizations can reduce the risk of losing them to competition.
One piece of advice that is often given to recruiters in the early stage is to send communication across multiple channels and not just email. By sending communications over high-activity channels like SMS & WhatsApp, recruiters can reduce the communication delay associated with just using an email communication channel.
Personalized Communication
New age screening solutions are also helping recruitment teams personalize their reach-outs to candidates along with the reason for selection or rejection. Helping them build a great candidate experience from an early stage.
Candidate Experience is one of the most talked-about topics in the recruitment fraternity today and a good communication strategy in your screening engine helps make this a reality.
Assessments
The screening process thus far ensures that we find the best candidates based on the data submitted by them either through resumes or via forms.
Increasingly organizations are utilizing screening assessments to measure the proficiency level of candidates across various skills. This not just helps in making the screening process objective but also reduces the number of interviews required per job. There are multiple types of assessments that are available in the market but can be broadly categorized into two core categories:
The behavioral assessments allow organizations to map the soft skills & attributes of candidates based on the job-evaluation criteria. These kinds of assessments are very common for roles in Sales, Customer Success, or HR which require strong interpersonal skills. These assessments act like a pre-HR interview round.
The functional assessments are usually thoughts of as technical assessments but can cover a wide range of functional requirements for a job. It can range from familiarity with a tool to knowledge of a particular domain that is required for a job. These assessments act like mini-interviews for candidates.
A good screening tool comes with either native assessments or leading assessment providers integrated with it. This removes the need for another tedious project of integrating your screening system with assessment providers like SHL, Mettl, HackerRank, etc.
Conclusion
The candidate screening process if built correctly can make the biggest difference in reducing the time-to-hire at organizations while improving the candidate quality. As the next step, we would love to invite you to see the above process in action with the TurboHire tool.