Chatbot Assessments are artificial intelligence-enhanced software that can replicate conversations with users with the use of natural language. This simulation is applicable to instant messaging apps, websites, mobile applications, or even via a phone call.
Chatbot Assessment in Hiring
Chatbot Assessment in hiring streamline interactions between candidates and recruiters, enhancing the candidate experience in a way that the recruiter can get an in-depth understanding of the applicant's behavior and how their experience has been in using it. At the same time, they offer companies new opportunities to improve the candidate engagement process and operational efficiency by reducing the typical cost of customer service.
50% of businesses are planning to invest more in chatbot assistants rather than on mobile applications. Chatbots are more like intuitive software programs, so they can be assessed from various points of view like usability and human variables, and focus on specific measures, for example, client satisfaction, task completion, time management, and so on. It is simply an attempt to deliver an interaction that is more human-like, following which the conversation is analyzed with AI.
Are Chatbots useful in Hiring?
Chatbots are proven to be very useful because of the following 4 major reasons
Chatbots are available 24×7.
Responses and conversations are autosaved.
Data gathering is very effective with chatbots.
Almost human-like responses.
What Are AI-based Chatbot Assessment in Hiring?
Communicating with clients through live chat interfaces has become an undeniably well-known method to give continuous client care in web-based business settings. Clients utilize these chatbots to acquire data about products, services, etc, or to acquire help for technical assistance. The real-time characteristic of chatbots has changed client support into two-path correspondence with critical impacts on trust and fulfillment.
Artificial Intelligence (AI) empowered chatbots are taking Customer Relationship Management (CRM) to another level as consumer-to-business, business-to-purchaser, and business-to-business interchanges are both improved and automated via push and pull of the perfect data at the perfect time. Chatbots additionally give advantages to clients as both existing customers and potential customers appreciate the opportunity to communicate on their own terms. Research shows that more than half of client questions might be overseen today through AI-based chatbots.
Why are Chatbot Assessments in hiring in such high demand among recruiters?
As indicated by a forthcoming HubSpot research report, of the 71% of individuals willing to utilize chatbots to get client help, many do it since they need their concerns addressed, as fast as possible.
Candidates applying for jobs lean toward self-service. They are no longer ready to stand by weeks, days, hours, or even minutes for acquiring any service or help. They need their inquiries replied at the earliest.
Shoppers are no longer satisfied to be confined by the specialized strategies chosen by an association. They need to interface with innovation across a wide number of channels.
A conversational AI-based chatbot offers an approach to address these issues by permitting clients to just request whatever they need, across numerous channels, any place they are, night or day.
What Does TurboHire's Chatbot Assessment Do?
TurboHire's Chatbot Assessment helps you to have an interactive conversation in natural language with your applicants with the help of artificial intelligence and is successful in handling most of your routine tasks and most frequently asked questions at job assessments. Chatbot Assessment facilitates your employers' weight by being a constant computerized right hand for all candidate inquiries and questions.
How can recruiters benefit from TurboHire's Chatbot Assessment?
Improve Quality of Hire: A Chatbot can reach out to as many candidates as required and make quality decisions powered by TurboHire's AI tools.
Reduce Time-to-Hire: Recruiters can invest much less time in assessing candidates.
More Secure: A chatbot ensures candidate security and makes an unbiased assessment. The assessment process becomes more transparent than ever.
Cost-To-Hire: The HR team can fulfill other responsibilities as Chatbot assesses candidates.
What Challenges In The Pre-Screening Phase Of Hiring Can Chatbot Assessments Help You Overcome?
In the Pre-Screening Phases of Hiring, there are numerous challenges faced by HR teams and candidates. Let us have a brief overview of these challenges.
Challenges Faced By HR Managers & Prospects
HR teams have a hard time engaging good candidates which makes candidates lose interest in the company. The best candidates are frequently reached regularly by recruiters, making it harder for your own email to stick out. Also, candidates with hard-to-find aptitudes are regularly considering several job offers for employment simultaneously. Extra effort has to be put into persuading passive candidates to choose your company over your competitors.
The HR department does not want to waste money or delay hiring activities, hence they want to recruit as fast as possible. However, the time required to make hires depends on the kind of industry you hiring in. Hiring from some industries may take more than a few months. The unavailability of qualified candidates is a possible reason for this to happen.
Candidate Experience is one of the most important features during hiring as most candidates use it to evaluate a company's job offers. Candidates consider candidate experience to be an impression of how they will be treated in the company. A bad experience will have a negative impression which will lead to the loss of candidates. Whereas, a positive experience encourages candidates in accepting job offers from your company.
Challenges Faced By Candidates
Job descriptions can be uninformative.
Hard to find information about a potential employer.
Lengthy and confusing hiring processes.
Not getting feedback from potential employers.
5 Important Features Of Chatbot Assessment in Hiring
Chatbot Assessments provide a human-like experience to candidates which helps them to assess candidates faster. It does not only provide benefits for candidates, but also for HR teams. In designing the chatbots, most developers use methods that try to replicate the working of HRs which can save immense amounts of time for HRs. Other than that, it is of huge advantage for candidates as it reduces the wait time for responses.
Chatbot assessments are highly customizable to meet the exact requirements of a company. However, there are some common features that most chatbots fulfill.
1. Conversational AI
The core of every chatbot is conversations. Most AI-based Chatbots are powered by advanced machine learning algorithms and natural language processing technology which aids in conversations ranging from "hello" to more extensive queries.
The conversation builder helps you leverage technologies like:
Natural language processing (NLP)
Small talk (hi, hello, how are you, etc)
Context management, natural language understanding
Entity and intent detection
2. Easy Configuration
In Chatbot Assessments, the chatbots are pre-trained to assess and understand company-specific requirements for a candidate. All the specific knowledge and terms are introduced to the bot and hence conversations can be flawless. It is pre-configured to resolve common candidate requests for every particular company.
Chatbots will have an existing information data set of inquiries that get refreshed according to the requirements of the company. At this stage, questions are effortlessly arranged to gather the necessary information from candidates. HR teams can enter the data about the job and various other details that the candidates will find helpful.
3. Data Collection
Chatbots are not only great at conversing with candidates, but they can also help you collect candidate information, such as basic information, education, experience, talents, and skills. This data can be very useful for profiling your candidates, re-targeting, and creating tailored conversation flows for specific types of candidates.
Chatbots offer an extraordinary candidate experience because of their usability. Since they are mobile-friendly, applicants can converse with the bot in a hurry. The two-way discussion permits the possibility to determine their questions as well. Reactions are auto-saved which implies candidates can delay the discussion and resume from where they left.
4. Candidate Screening
As the chatbot continues conversing with candidates, real-time data is updated on the platform. Recruiters and HR Teams can go through this data on a well-organized dashboard where all the details of the conversation are present including the date and time of the messages. Recruiters can make pre-screening decisions with this information even without conversing with the candidates once.
This saves an ample amount of time required when going through thousands of resumes of candidates and sorting out the best talents.
A chatbot can assist suitable candidates with suitable job roles and assess them for only that role depending on their skills and qualifications. An all-in-one chatbot will screen the best candidates as per the requirements of the company.
5. Participant Invitation
The participation invitation feature in AI-based Chatbot assessments allows HRs or recruiters to engage with large candidate data easily and individually invite candidates. Chatbots can also assist with writing customized emails required for different job positions. Chatbots can efficiently reduce manual hassle as they are ever-evolving to handle bulks of data.
How To Measure The Effectiveness Of Chatbot Assessment in Hiring?
AI can significantly improve the candidate experience. It lets recruiters offer immediate support and help. Artificial Intelligence enabled chatbot assessments can enhance and optimize the sourcing experience for candidates as well as employers. It allows open-ended responding techniques along with judgment tests and personality assessments. These bots reduce unconscious hiring bias, make decisions faster, and improves the overall experience for candidates.
Using AI-based Chatbots solves your time versus quality dilemma by sorting the good from the disqualified resumes in a fast and efficient manner, thereby significantly reducing the time spent by tech recruiters in going through every resume. Using AI-powered Chatbots in recruitment and hiring has proven to have the following benefits:
Reduced time to hire
Reduced cost to hire
Improved quality of hire
Improved candidate experience
Increased candidate engagement
Optimized hiring process
Improved hiring rates and productivity
Prevents unconscious hiring bias
Promotes diversity and inclusivity
Security of data
Time-to-hire is a critical metric to measure the success of your recruitment, and the use of AI-based chatbots in assessing candidates significantly expedites the shortlisting process and reduces the time-to-hire. These chatbots help recruiters analyze big data and put logical filters to target relevant candidates within a few clicks. It gives tech recruiters the time to engage with candidates, that was earlier devoted to manual sorting of resumes. The use of these tools decreases the time to- hire, thus resulting in a 69% success rate.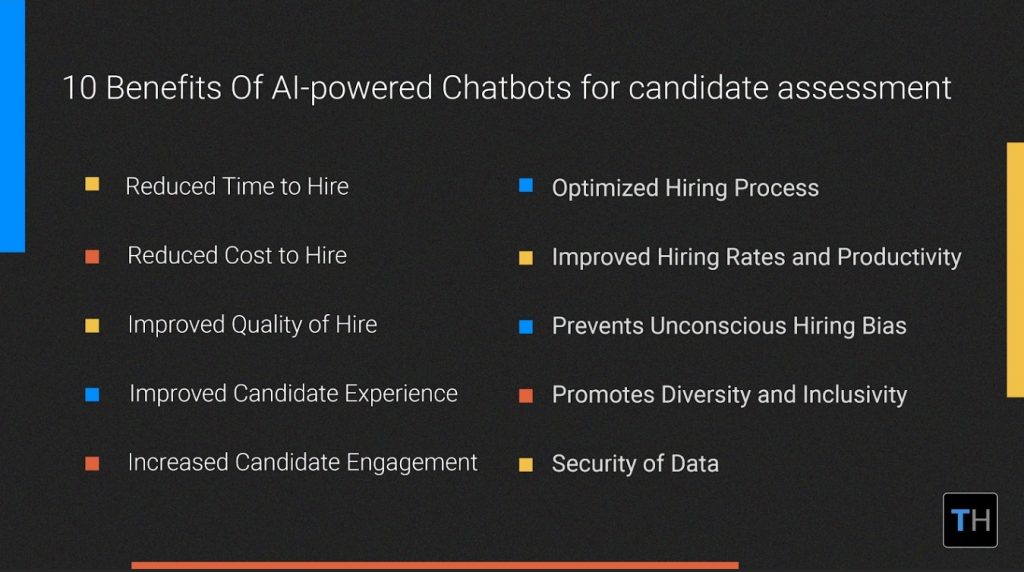 Simulated intelligence assists recruiters with dissecting huge information and put coherent channels to target significant applicants with only a few clicks. It gives hiring teams an opportunity to draw in with applicants, that were prior dedicated to manual arranging of resumes.
The utilization of ATS and AI devices diminishes the time-to-hire, hence bringing about a 69% achievement rate.
The Influence of Artificial Intelligence in Candidate Assessment
Recruiters have come a long way in applying AI in assessment, and the progress will only speed up and become more refined. Assessment developers are already looking at how AI can help interpret responses to open-ended questions in personality questionnaires and other progressive assessments, such as those based around messaging apps. Real-time interviews could be carried out by an avatar over the internet, or with the avatar being the observer of a hiring manager's interview.
The use of artificial intelligence (AI) in chatbot assessments:
Guides Administrative Tasks
Makes hassle-free decision-making processes for the HR
Ensures natural responses of candidates to assessment tools
Omits restrictions of written tests
What is The Future of Chatbot Assessment for Recruiters?
Faster Screening of Candidates
Real-time Data Collection
Instant Bulk Data Upload
Complete Customization
Conversational AI-based chatbots are energizing. With its prospects and the chances, which AI brings along, organizations can get all in all other degrees of advancement. Hiring and assessing chatbots, in their turn, can be of incredible assistance for HR supervisors regarding managing essential enrollment undertakings. They can answer the most common questions and help applicants secure the positions that fit their profiles.
However, since the development of AI-based chatbots is still emerging, it brings along certain entanglements. Applicants frequently search for human cooperation during the hiring cycle, which bots cannot fulfill. Additionally, there's consistently a danger to data protection, since chatbots convey a great deal of individual information.
Even so, AI-based chatbots will be of tremendous assistance for your business, not just for assessment requests for employment and choosing the best applicants, yet in addition carrying development to your business.
FAQs On Chatbot Assessment In Hiring
1. How do I know if my company needs a chatbot assessment?
Chatbot assessments are reasonable for most enterprises and use cases. They have a reputation for providing amazing client assistance, yet there are additionally some extraordinary benefits of using chatbots in recruitment and screening. If your company is frequently in contact with candidates and needs to respond to candidate queries regularly, then chatbots are the answer.
Not only do chatbots make communication easier but AI-based chatbot assessment by TurboHire will pre-screen unnecessary candidates and reduce your workload.
2. In what stages of recruitment are chatbot assessments used?
As mentioned above, chatbots are a great help in the pre-screening phases of hiring as they ask simple questions to a large number of candidates at the same time. However, pre-screening is not the only stage where your company can utilize an AI-based chatbot.
After collecting candidate responses, chatbots can quickly schedule automated interviews with the candidates that have been selected by the recruiter. The fast response feature of candidates improves the candidate experience and candidate engagement of your company, thus building your employer brand.
3. Are job applicants in favor of chatbot assessment?
According to a survey by Allegis, 58% of candidates are comfortable with chatbot assessment for answering pre-screening questions in the recruitment process. 66% of candidates are okay with chatbots scheduling their interviews.
Candidates that have experienced TurboHire's chatbot assessment have responded positively. AI-based chatbot assessment during the pre-screening stages increases candidate response rates and reduces the wastage of time of both the recruiters and the candidate.
4. Are chatbot assessments in demand in the recruitment market?
In recent times, candidates need their inquiries replied to as fast as possible. Most job applicants lean toward self-service. The days when candidates are required to stand by weeks, days, hours, or even minutes for acquiring any service or help are long gone.
A conversational AI-based chatbot offers an approach to address these issues by permitting candidates or prospects to just request their needs, across a number of channels, from anywhere they are, at any time they want.
5. How do you assess the performance of a chatbot?
Chatbots are assessed based on a number of factors. The number of interactions a chatbot has had in a specific period of time contributes to the activity volume of a chatbot. Performance can also be measured in the form of the number of questions answered by the chatbot, the average number of simultaneous conversations that are active, the length of the interaction with the user, the number of times the chatbot fails to respond to users, and many more similar aspects. One of the most common ways of assessing performance is also by introducing a user feedback section in order to understand the satisfaction rate of the bot.
6. Are all chatbots based on AI?
There are mainly two kinds of chatbots: rule-based chatbots and NLP-based (AI) chatbots. Rule-based chatbots are the ones that mostly make use of buttons and options for the user to communicate with the bot. The communication takes place through pre-defined rules, hence the user only has a limited number of questions to ask. However, when NLP-based chatbots are created, the main idea is to create a bot that does not just recognize specific words but tries to understand what the user is actually trying to convey. These chatbots can answer the same questions being asked in different ways without being precisely programmed for it.