It is effective to keep a track of your recruitment process to ensure the ROI of your hiring investments. One way of doing that is creating a Recruiting Report in each hiring stage. It can be done by assessing and reporting on your candidates or by analyzing the various processes and paying close attention to the kind of candidates that stay for the longest time and successfully climb the 'company ladder' fastest or farthest.
4 Most Useful Features of Recruiting Reports
The source of most candidates is one of the most vital elements in the recruitment process. However, hiring processes are usually sector-specific and will never be the same for many businesses. When sourcing for candidates as ads through job boards, clarity is essential. It can be however expensive if these methods are not producing the correct outputs. Hence, it is important to keep track of your hiring cycle, and recruiting reports provide you with this progress report. Here are the 4 most useful features of using recruiting reports when hiring:
Reports on recruiter activity, sourcing, and job performance
Candidate Activity Tracking
Interactive reporting features
Customized Reporting Generation and Dashboards
4 Essential Recruiting Reports Are Commonly Used In Hiring
1. Sourcing Report
Sourcing Reports can uncover a huge load of data about how well your marking strategies are functioning and what roads are really received by your candidates. Sourcing Reports can reveal to you whether paid ads and the hiring teams are viable in netting applicants. You will likewise discover how significant your career pages and social media pages are with regard to pulling in candidates.
2. Hiring Time Report
The analysis of time to hire can give you an idea as to what parts of the recruiting cycle are slacking and where bottlenecks are happening. By breaking down these reports, areas that need improvement might be promptly distinguished.
3. Hiring Cost Report
The cost of a hire of every single hire must be measured, no matter the reason. Various elements like recruiter payment, external or internal, are commonly measured while evaluating.
However, there are a few more factors that should be considered while making a report on the cost of hire, as follows:
Any placed advertisements.
The set-up and maintenance of social accounts such as Twitter, Facebook, and LinkedIn.
Time spent interviewing candidates.
Any administrative or accounting costs involved like contracts, pay accounts, health benefits, and more.
4. Hiring Team Activity Report
The recruitment team of an organization might be spending an ample amount of effort and time on a single phase of the employing process. This data will be revealed on the recruiter's activity report and hence issues can be analyzed. Using these reports, you can track if team members are getting bogged down with too much work or if a certain recruiter is taking too much time.
When you review the recruiting team activity, you will be able to figure out how to save labor hours and streamline the hiring process.
What Recruiting Reports Do TurboHire Provide?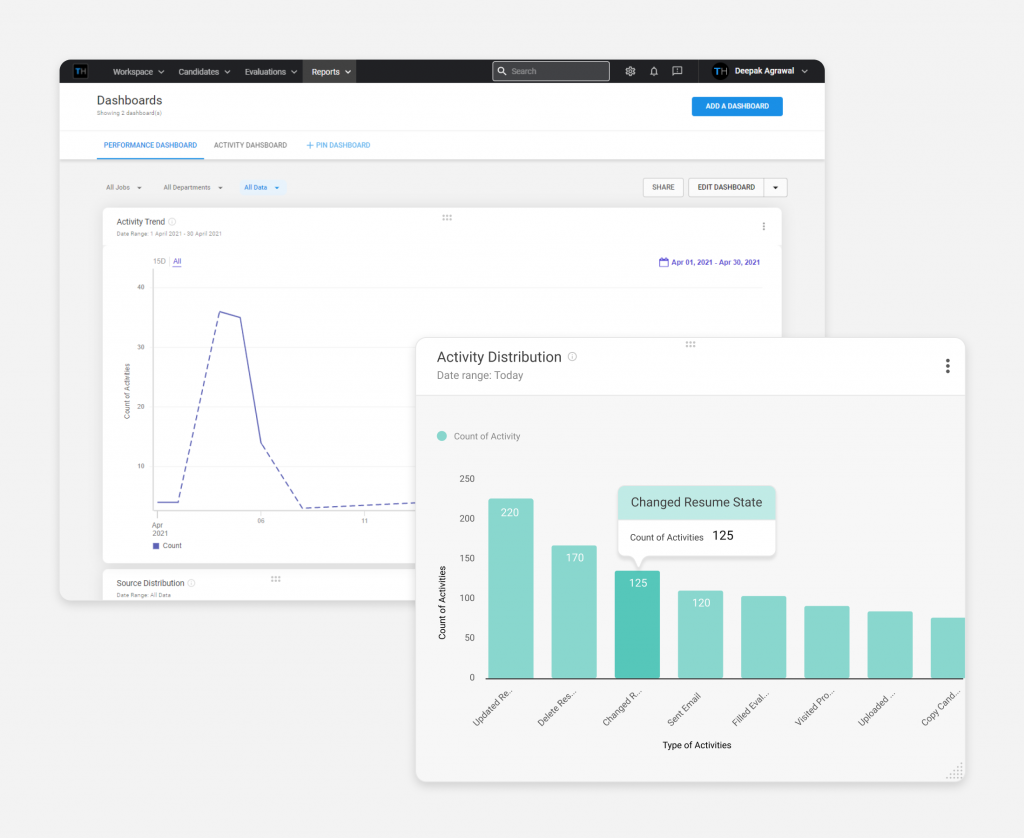 The Recruiting Reports of TurboHire measures progress and generate insights that help you deliver rich reports. TurboHire has the option of customizing reports for every stage of the recruitment process. Reporting with TurboHire can help you capture candidate activity, recruitment progress, discover bottlenecks, and more. Here are the Recruiting Reports provided by TurboHire:
Candidate Engagement Reports – To measure the effectiveness of your email campaigns.
Recruitment Activity Report – To measure and improve your recruiter productivity.
Source Reports – To understand the value of sourcing from various channels.
Integrations Reports – Utilize TurboHire's APIs to integrate your recruitment data to the recruitment platform of your choice.
The recruitment reports and the data associated with them are valuable to every individual who, somehow, is associated with hiring for the company: from the head of talent and the accounts team to the employing manager and the team. Utilizing the information you get from these recruitment reports, you can settle on essential choices dependent on facts, as opposed to driving or habitually; you can contrast your hiring objectives and the genuine outcomes, focus areas for development and perceive how your recruitment process gets more powerful over the long haul.
Can Recruiters Customize Recruiting Reports with TurboHire?
Yes, recruiters can customize recruiting reports as per their hiring requirements. Each organization is unique, so Custom Recruiting Reports can be a valuable option. Recruiters may appear to be extremely unique than employing duplicate editors, so the capacity to make modified reports can prove to be useful for tying down top ability and sorting out some way to continue with future recruitment. Custom Recruiting Reports can likewise be helpful for transferring employing data and progress to high-level administration.
Importance of Applicant Tracking System to Recruiting Reports
What is clear is that most, if not all organizations, see an incentive in reporting. In the event that your organization is one of those that are presently unable to report or whose reporting capacities are wasteful, there are Applicant Tracking System (ATS) platforms that can give you a high level, an all-in-one reporting module that gives you the adaptability to figure out which reports you to require and which are essential to your business.
Having access to the data in recruitment reports progressively will permit you to persistently improve your recruitment process and furthermore take into account the exact amount of spending plan to the assets that produce the best results for you.
To make sure that the recruiting reporting is exactly the way you want it, so it helps you to rise the hiring standards, cut recruitment costs, using Applicant Tracking System (ATS) software will only benefit you.
Do You Think Recruiting Reports Can Be Important To You?
The recruitment process of a company starts from pre-screening to onboarding a candidate. Recruitment reports should also record data from the pre-screening recruitment process to hiring, onboarding a candidate, and even after that.
TurboHire's recruitment report module can aid a company to identify any bottlenecks present that may provide any hamper to the growth of the company.
On account of medium size organizations, they for the most part have the training to produce a report however a couple of organizations really survey reports precisely and set up an activity plan dependent on report investigation.
Interpretation of recruitment reports is similarly significant as to create reports. On the off chance that you have great reports yet you do not put anything action-based dependent on the analysis of such great reports then there is no meaning of such great reports.
Preferably, recruitment reports can be calculated for every day, or every week or month, semester, year depending on the requirement and the nature of the reports required by the company. Along these lines, you'll choose where your team should invest energy and assets.