In the world of talent acquisition, recruiters use LinkedIn to source the best candidates. But despite the growing demand from industry leaders for more readily-available candidate data, the fact remains that recruiters and hiring managers are still fighting to find and export critical candidate information from LinkedIn. This is because in most cases the contact information on the profile is missing and there is no certain way to get the information and enroll them in email sequences to get their interest.
The solution to Candidate Sourcing – LinkedIn Enrichment by TurboHire Connect
In contemplation to making outbound sourcing and qualifying candidates easier, and to track down candidate email addresses and export profiles to your Recruitment Automation Tool and enroll them in the resume banks to create a database. This is where TurboHire Connect's LinkedIn Enrichment feature comes to the rescue. Given any profile, it easily finds the contact information even if it is not present in the profile.
What is TurboHire Connect?
TurboHire Connect is a Google Chrome extension for recruiters and recruiting partners that let you extract candidate contact information, source candidates directly to the jobs and organize candidate profile data directly to Resume Banks. Do you want to know more about TurboHire Connect? Click here.
Importance of Applicant Tracking System in Candidate Sourcing
The introduction of Applicant Tracking System (ATS) brought automation into talent management. One of the important best practices for any talent acquisition team is to maintain your own database of candidate information. While the market is flooded with plenty of tools that offer opportunities to stay organized, the truth is that there's really no substitute for your own applicant tracking system.
With time ATS becomes a crucial part of your organization that combines the information gathered from candidate profiles or resumes with the notes, feedback, and history that gets documented. But the main problem lies in extracting and exporting the candidate's data while sourcing it from third-party websites (including LinkedIn).
How to use the LinkedIn Enrichment feature with TurboHire Connect?
Using the LinkedIn enrichment feature by TurboHire Connect both the problems mentioned above can be addressed. Here is how you can use it:
You just need to download the Chrome Extension of TurboHire.
Log in to your LinkedIn account and go to the potential candidate's profile you are interested in.
Activate the TurboHire chrome extension by clicking its icon in the toolbar.
Follow these 3 simple steps to extract information with TurboHire Connect:
Step 1: Click on Extract Candidate Information.
Step 2: Click on Show Contact. It will display verified primary candidate information as follows:
Candidate's email address
Candidate's phone number
Candidate's LinkedIn profile URL
You can also gather additional information on the candidate by clicking on the Advanced Candidate Details button.
Step 3: In the last step, you can directly add the candidate to the jobs/resume banks they are suitable for.
Give wings to Outbound Candidate Sourcing with TurboHire Connect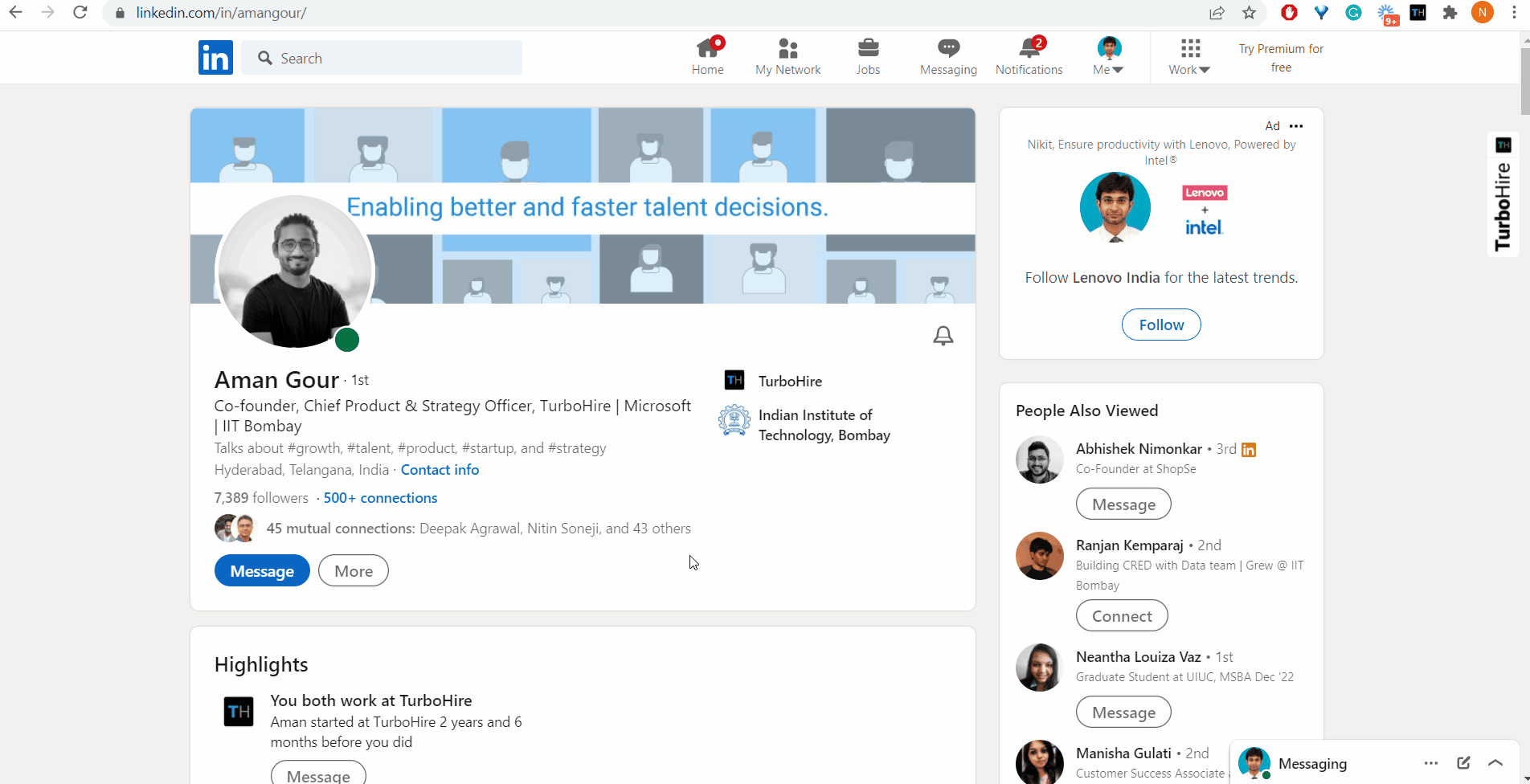 Rest assured, since, with this feature, you are directly extracting the information to the ATS, it will prevent your account from being blocked by LinkedIn.
In this way, recruiters and recruiting partners can get better cold outreach results with verified email addresses and phone numbers along with deeper pieces of information like skillset, social media accounts, and more with just one click and hence simplifying your sourcing strategy to the click of a button.
If you want to know more about our product, schedule a free demo anytime. We have 24 x 7 TurboHire support.