The onset of the Covid pandemic has changed the whole working scenario for all industries across the world severely. The recruitment industry can be considered as one of the most hard-hit industries, all things considered. 2022 will be a year when the world recovers from this huge blast and starts going back to the normal or as we call it, the 'new' normal.
Two resources that can summarise the change of hiring trends during these few years:
Along the same lines, TurboHire has created a brand new industry report that is going to summarize what the world of recruitment will look like in the present year. It will answer questions like:
What are the new trends recruiters are adopting?
Why are hiring managers and recruiters around the world adopting these changes?
What do the experts have to say about this?
How will these trends affect the current scenario of recruitment?
What to expect in the Global Recruitment Industry Report?
The report is based on hard facts and statistics. It is a summary of long-drawn research around the recruitment trends that will shape the year 2022.
The report starts with discussing the 10 major trends around recruitment predicted for the year 2022. These trends have been supported with industry data on why these trends are being adopted or why they play a significant role in hiring.
Below are the trends discussed:
Growth of Data-driven Recruiting
Recruitment Automation is on a rise
DE&I (Diversity, Equality, and Inclusion) is becoming a must-have
Internal Mobility & Reskilling
Rise of the on-demand workforce
Virtual Hiring & Remote Work isn't going away
Focus on Employee Engagement
Technology in Interview
Recruitment through referrals
Increasing use in AI & Gamification
The trends section is filled with more than 10 infographic data and contains around 15 statistics.
The data presented in the report revolve around what percentages of companies are including these trends in their companies, how is it improving their performance, and what are the benefits involved in the same. This information could be used to take necessary actions on your company's recruitment strategy.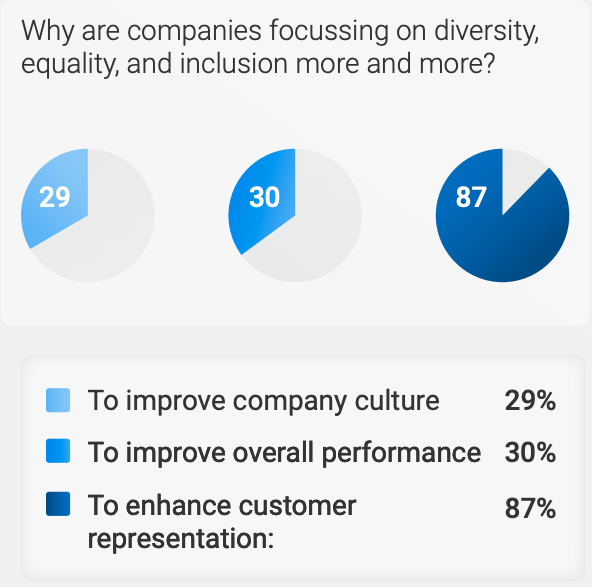 The trends section is followed by the section that contains What Industry Leaders have to say about the hiring dynamics of 2022.
In this section, you'll find the thoughts of industry leaders ranging from CEOs, Recruitment Consultants, HR Strategists, founders, etc. As the CEO of Upwork says "Work has changed forever! Covid caused professionals to reevaluate their values and focus on opportunities that offer greater flexibility and the war for talent reaching a fever pitch has caused companies to explore new work models".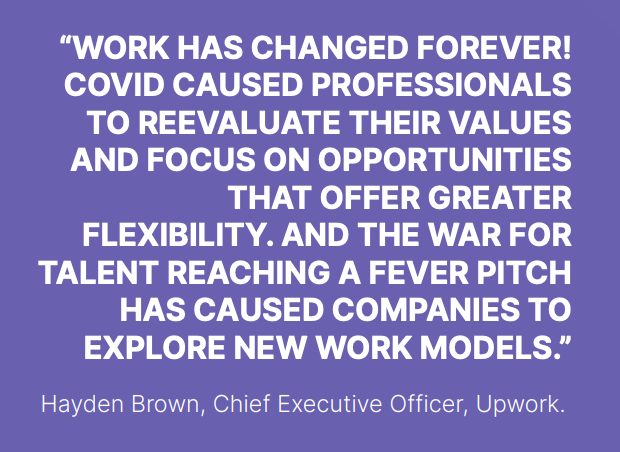 Learning about the thoughts of these leaders will help you understand the future of hiring with a better perspective. Not only does it provide you with evidence that the world is in a changing order but it also improves your confidence in developing your personal opinions about the present hiring dynamics.
Following this is the section where we release a year-long (2021) survey by TurboHire around the Talent Acquisition Industry.
This section contains nine survey questions and their results presented with sophisticated infographics. It throws light on what recruiters prefer and are liking about applicant tracking systems and what strategies to follow to have a successful talent acquisition and talent intelligence strategy.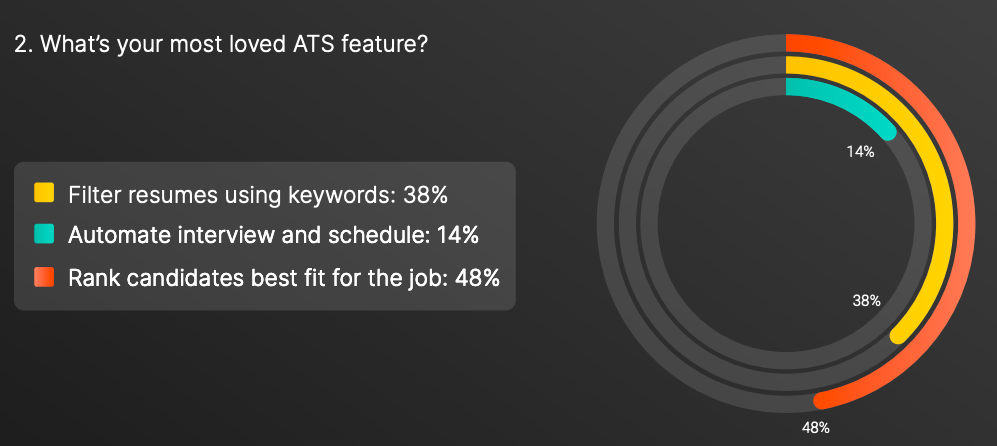 This is followed by the thoughts of TurboHire's own experts of the recruitment industry like the Director of Sales and Growth, Co-founder and VP of Engineering, Senior Data Science, Senior Product Manager, etc. They discuss how 2022 will shape the industry and what to expect and hope for in this year. They also talk about how 2022 is going to represent a growth year for TurboHire as a high-end recruitment tool.
A follow up research on the top 5 in-demand jobs and skill in 2022 has shown that Cloud Computing is one of the most trending topics in the talent industry right now.
"This profession combined with skills like database management and programming can result in up to a 60% salary hike" – Top 5 in-demand jobs in 2022, Global Recruitment Industry Report 2022, TurboHire.
Who is this report meant for?
Recruiters
Hiring Managers
Founders
CEOs
Talent Acquisition Specialists
HR Leaders
CHROs
Basically, anybody who wants to gain knowledge about what to expect from the recruitment industry during this year, this report is for them.
Download the report now: Global Recruitment Industry Report 2022