The Present Of Hiring
Definitive Hiring Guide to Candidate Resume Scoring
Scanning through the resume and selecting the right candidates will need a lot of time. However it is a bit easier when you get to score the resumes and select your candidate based on the scores. This report will help you understand all about how does resume scoring takes place. You can also refer to some problems and its related solutions to get a better idea on ow you can tackle a number of problems in candidate resume scoring.
Key Highlights
Candidate resume scoring is the new way to check the resume of the candidates. Ere are some of te points that are covered in the report which helps your way in understanding the process:
Problems and solutions for candidate screening

You can find some of the reflective problems and solutions that are mentioned in the industry report taken from real time data to help you understand the candidate screening process better.

Evaluation approach to score resumes

Get to know how various evaluation methods can be used to screen candidates to ease out the entire talent discovery process.

Using scoring engine in screening

Scoring engine is a great way to check the right match for your desired candidates and this can now be checked out via this industry report.

Results derived from candidate resume scoring

About 90% of irrelevant resumes can be removed with the help of these resume scoring tools. This recruitment automation will help ease the screening process at an intelligent and easy level.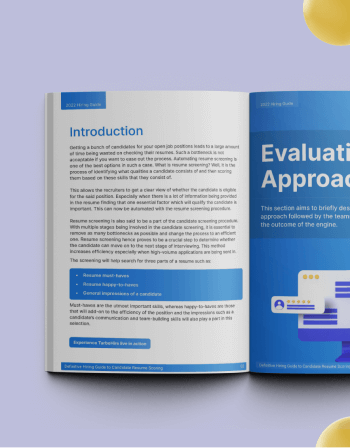 Introduction to candidate screening & resume scoring
Problem identification in candidate screening
Solution to candidate screening
Evaluation Approach to candidate resume scoring

Data Input
Process
Recommendation
Stack Ranking
Success Evaluation
Value Generation
Non-Goals

Results in candidate screening and evaluation
Appendix
Acknowledgements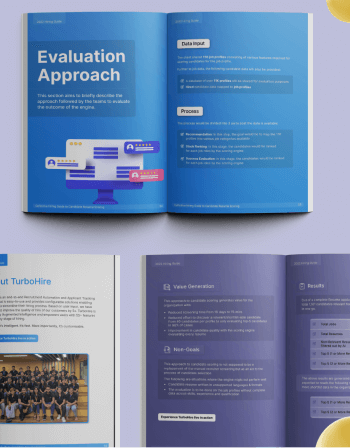 How has screening of candidates changed with the help of resume scoring? Is candidate resume scoring a better way to evaluate the candidate? Is it possible to remove bottlenecks related to candidate screening with this feature?
If these are some of the questions you are trying to find answers to, well, you can now refer to this industry report consisting of in-detail explanation on how the resume scoring attribute works. Further, learn how it will not only help you but your entire TA team during the hiring drives.
Download the report now and get a comprehensive guide to candidate resume scoring.