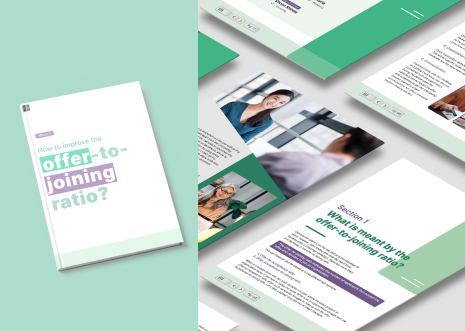 How to improve the offer-to-joining ratio?
The ebook will highlight all about offers provided to candidates and how this offer-to-joining ratio depends on various factors. Understanding the factors and hence trying to improve the ratio using various methods can be focused on. Recruiters will also be able to check out some of the ways implemented by multinational companies to increase the overall offer-to-joining ratio.
With a declining offer-to-joining ratio each year it is becoming hard to not just hire candidates but also to retain them. Let's explore more about what are the factors that play an important role in hiring, retaining, and maintaining candidates.
What you will learn in this eBook
Breakdown of offer-to-joining ratio
You will get to understand how offer-to-joining is not just a single term instead it is a combination of two sub-terms such as the offer-to-offer acceptance ratio and the offer acceptance-to-joining ratio.
Factors that affect the ratio
Understanding the core of various problems and the factors involved in them is quite important. Understanding how the factors affect the ratio will help focus on the area which needs to be improved for better results.
Measuring the ratio
Along with understanding the factors that affect the ratio, it is also more important to be able to measure the ratio and keep a record of the same. A record of various recruitment rounds will help compare how the improvement has taken place over the years.
An overview of multinational companies' hiring strategies
Want to know some successful hiring practices by multinational companies, then here's a list of various companies and their hiring strategies that have led to a high offer-to-joining ratio.