The present of hiring
Top 5 use cases in Recruitment Automation
A report on how recruitment automation is transforming the hiring process across industries worldwide. The report discusses why companies are adopting recruitment automation and how they are benefitting from the same. The growth of this new trend in the industry is affecting how organizations structure their recruitment process and this report will be hard proof of why you should do the same.
Key Highlights
Recruitment Automation is the key to the future of hiring. Some points covered in the report that support this statement:
10 Hard Facts on Recruitment Automation

Statistical data and statements researched from various sources across the industry have been included.

Results after using Recruitment Automation

Learn how a company in the IT industry reduced its time-to-hire by 77% after using TurboHire's automated recruitment solution.

Thoughts from the CHRO of IBM

A quote on how companies are changing the method of working and recruiting after the industrial revolution.

TurboHire's Industry Survey

Gather information from 27 survey questions around recruitment automation in a survey conducted by TurboHire.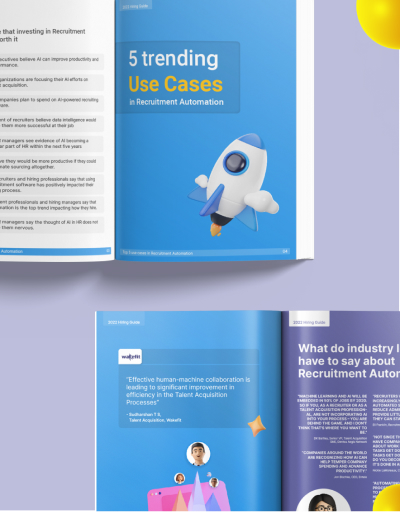 What is Recruitment Automation?
10 stats to prove that investing in Recruitment Automation is worth it
5 trending use cases in Recruitment Automation

Use case 1: No-code recruitment automation in venture capital & private equity industry
Use case 2: Intelligent hiring in the healthcare industry
Use case 3: Hypergrowth hiring in the fintech industry
Use case 4: Recruitment intelligence in the IT industry
Use case 5: Hypervolume hiring in the R&D home solutions industry

What do industry leaders have to say about Recruitment Automation?
TurboHire's industry survey on the growth of Recruitment Automation in 2021-22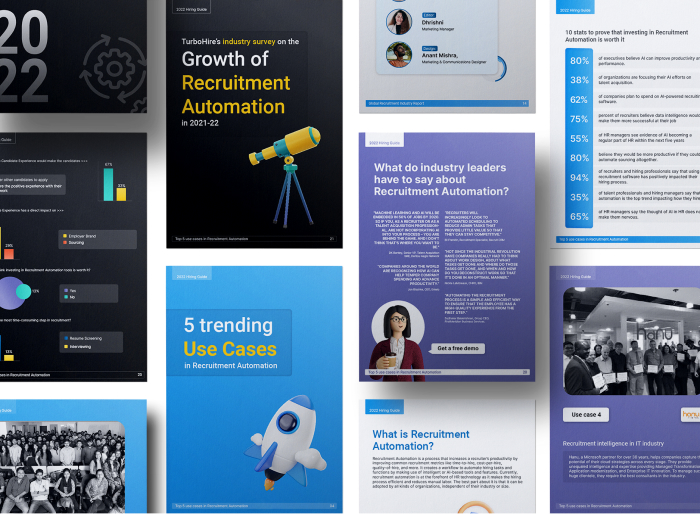 What common challenges are companies facing in recruitment? What has motivated recruiters from around the world to adopt recruitment automation tools? What problems do these tools or features solve and what is their outcome? How is TurboHire contributing to the future of hiring?
Read through the report in detail to gain the maximum knowledge or just skim through the pages while observing the statistical data and figures taken from various sources. How you want to absorb the information is up to you. Stay updated with what recruiters around the world are adopting or have already adopted.
To know more, Download the report.