The Present Of Hiring
Global Recruitment Industry Report
Download our exclusive report on Global Recruitment Industry insights in 2022. A post-pandemic synthese of worldwide recruitment trends that focuses on understanding the dynamics of automation, on-demand workforce, and data-driven processes that are meant to stay. Know what the industry leaders from Forbes, Upwork, LEADx, etc have to say about the ongoing and upcoming hiring dynamics, the in-demand skills, jobs, and much more!
Key Highlights
The launch of new trends has given rise to a number of studies focussing on the validity of these trends. Here are some highlights from the recruitment industry report 2022.
15+ Data Numbers

Statistics around Recruitment Trends for 2022.

Trending: Cloud Computing

Learn how Cloud-computing has become one of the top skills and jobs to look out for.

9 survey questions

A survey around Talent Acquisition and Applicant Tracking Software by TurboHire.

Thoughts of Upwork CEO

Thoughts on how the recruitment industry is changing from the CEO of Upwork.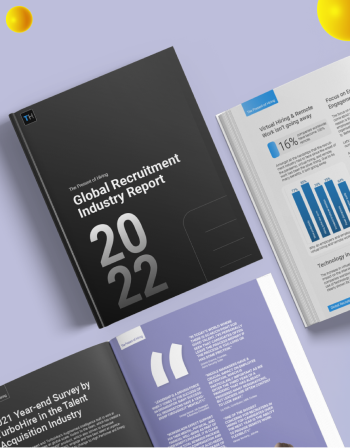 Top 10 Recruitment Trends Predicted for 2022
What do Industry Leaders have to say about the Hiring Dynamics of 2022?
2021 Year-end Survey by TurboHire in the Talent Acquisition Industry
Top 5 in-demand Jobs in 2022
Top 5 in-demand Skills in 2022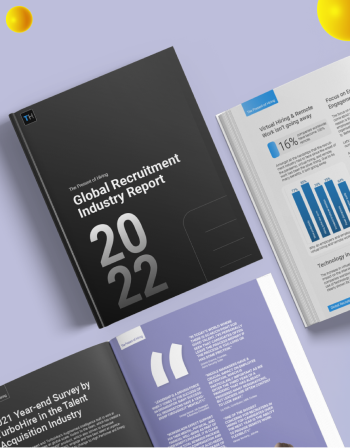 What technological dynamics in hiring are going to gain momentum in 2022? Are you aware of the growth in demand for gamification at work place and in candidate assessment? Why are organizations around the world betting on the advancements in Recruitment Automation?
Choose to read or skim through data curated from across the industry and their impact on recruitment. In order to endure the coming decade, hiring managers need to remain on the ball and use underestimated aptitudes.
Want to know more? Download the report.