The Present Of Hiring
Definitive Hiring Guide to Candidate Screening
You can now find this report on how candidate screening is conducted and what are the parameters that are included in screening a candidate. While candidate screening is a part of the overall hiring process there are various ways in which a recruiter can screen a candidate. With the help of various automated candidate screening tools, it is now possible to both simplify and organize the process.
Key Highlights
Candidate screening is now being optimized by tools, but how, here are some points that are stated in the report that support the same:
Data supporting current scenario in candidate screening

Data has been collected and a list has been curated to support the way through which tools are helping candidate screening.

Candidate screening problems solved by recruitment automation tools

With the help of recruitment automation tools, candidate screening problems have reduced while recruiters have 36% more satisfaction.

Industry survey on candidate screening

With TurboHire's own survey here are some great facts that recruiters ought to know rearding candidate screening and how it is affecting industries.

Thoughts from Aman Gour, Co-founder, Product & Revenue, TurboHire

Catch on these thought-provoking statements from Aman Gour on what candidate screening means and how the recent automation has changed the processes.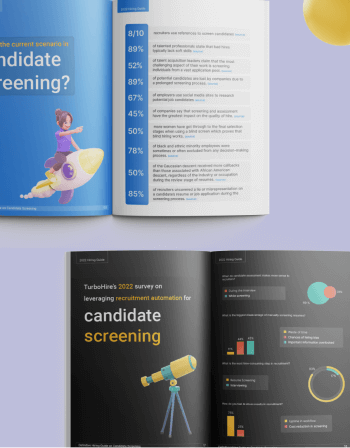 What is candidate screening?
What is the current scenario in candidate screening?
Solving candidate screening with recruitment automation tools
TurboHire's 2022 industry survey on leveraging recruitment automation for candidate screening
What do industry leaders have to say about the penetration of technology in candidate screening?
Acknowledgements
Why are recruiters wasting a lot of time in candidate screening? What sort of challenges are coming up while screening candidates? How will candidate screening look like in 2022? What are the tools to optimize for better candidate screening?
Well, if you are looking out for the answers to these questions, then now you can skim through our data and check out some of the latest trends in the industry which will help you decide how to strategize your plans while there is a competition going on in the market. Stay on top of all the trends now with some of the best practices.
To know more download the report and get a copy of your own.