The coronavirus pandemic has affected people in every nook and corner of the world. In April 2020, there were approximately 1,741,621 new cases across 210 countries, which also caused 106,670 deaths. Today on a 7-day average, there are currently 1,23,792 new cases in India, in the US the number of new cases on a 7-day average is 14,809. All over the world, the 7-day average of new cases is 4,38,895.
Although the numbers have decreased, needless to say, Covid-19 cannot be taken lightly. Amidst this crisis, those that have stood against odds to risk their own lives to save others have been the healthcare force. From doctors and nurses to community workers, to ambulance drivers to hospital assistants – they have all (amid the fear of sanitation) continued to work as 'frontline corona warriors'. Even as more than half the world was locked inside homes, they kept going forward performing their duties.
What is TurboHire Free4Hospitals Initiative?
The medical community is the one who deserves our immediate gratitude and celebration! This is why TurboHire has come up with an initiative to make the platform free for hospitals till the end of 2021. TurboHire is Free For Hospitals! Doctors, healthcare workers, and medical staff members have been putting their own lives at risk to come out as true heroes in such challenging times.
By making TurboHire free for hospitals during these crucial times, we hope to empower the healthcare industry with the ability to quickly discover and onboard the best candidates for your critically needed workforce. In our small way, we aim to support your efforts of protecting and treating patients in this pandemic.
We had noticed that during this pandemic there has been an increasing requirement for more medical staff across medical institutions in India as well as in the US. As a gesture of our support towards providing to meet the increasing demand, we have extended our free service until 31st December 2021.
Key Highlights of the Initiative
1. It does not matter in which part of the world you are in, if a medical institute signs up for this initiative, TurboHire is providing free access to its 'Pro' subscription till the end of the year.
2. Once the free trial ends, you are free to either renew the subscription or cancel it.
3. You can also make use of more features by upgrading the plan. If the plan looks out of budget, you can choose to downgrade to a Basic plan too.
4. If you want to customize a plan, you have the best possible options as it's configurable to your specific hiring requirement.
What Does TurboHire Free4Hospitals Initiative Include?
In response to the coronavirus pandemic, under-staffed hospitals are facing the challenge of attending to the unprecedented increase in patients. To add to that, the healthcare community has also been working for months now to find an effective antidote to the virus. Considering the dire need to support the healthcare system with the right technology to empower relief efforts, we have rolled out a ton of features.
1. By leveraging the intelligence of a powerful Applicant Tracking System (ATS), via this free service, one can discover suitable healthcare professionals from (selective) job boards.
2. Once you have sourced the candidates and created your database, you will be able to filter through all the resumes in the form of smart cards to help you rank the applicants.
3. We also do realize that walk-in/in-person interviews are not applicable right now, which is why you can utilize TurboHire's automated interview feature to help you shortlist the applicants for further evaluation.
4. When you want to track the progress of your hiring, you can structure it via our recruiting report tool to ensure you are hiring the most suitable healthcare professionals.
The entire process is intelligent, automated, smart, configurable, and easy-to-use, and you can be assured that you will find all the tools and database in a single place, in a systematic way.
TurboHire's Free4Hospitals initiative is free for hospitals as organisations, and not for candidates. If you are a healthcare professional employed by a hospital you can officially onboard your organisation by following the necessary process.
Talent Network – Social Initiative During Pandemic by TurboHire
During this time last year, during the first wave of Covid-19, TurboHire announced Talent Network, a social initiative that was taken to aggregate jobs and candidates. With Talent Network, recruiters were able to post their openings to get candidate recommendations, leveraging artificial intelligence (AI). Candidates also had the chance to share their resumes to increase their chances of getting a job that matched their skill set. The idea was 'to connect people who have lost jobs and find jobs at growing companies'.
The initiative gained popularity with the blessing of Global VC Leader. A large number of companies also became a part of the network such as PhonePe, Dream11, Rapido, Freshworks, CureFit, Delhivery, Vedantu to name a few.
In light of the second wave, we want to revisit our efforts to extend further support and this time to the selfless healthcare workers, who, in spite of being highly vulnerable to the virus have dedicated their services. Our small initiative will be a great tribute to highlight the heroic efforts of the healthcare force.
Kauvery Hospitals – Customer Journey Through Pandemic with TurboHire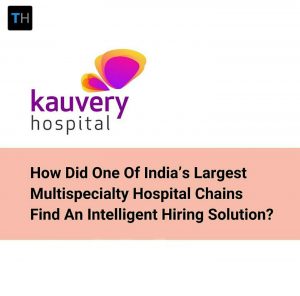 In 2020, the leading multi-specialty hospital chain, Kauvery Hospitals was flooded with 1000s of applications for its select few job openings. TurboHire helped automate their recruitment process as well as source thrice the number of candidates before identifying the best-suited ones.
Kauvery Hospital is one of the best multi-specialty hospitals that has been offering top-tier medical services for 20 years. In 2020, Kauvery Hospitals' HR team was looking for a collaborative and innovative solution for their hiring requirement.
They would approximately get 150+ applicants for a single job opening. Out of this, only '8-10 resumes were really relevant'! They also had to shift away from in-person interviews, considering the challenging times.
This is when TurboHire helped. Kauvery Hospitals was successful in speeding up the recruitment process with TurboHire to hire frontline workers during the COVID pandemic, at a 3x speed.
You can read the complete customer journey here.
Our Vision with the Free4Hospitals Initiative
The healthcare system has been an invisible shield, one that has been built over decades, that has kept us safer. Due to the surge in demand, the infrastructure has taken a big hit. Further, there is a shortage of medical staff.

We, as a nation, have to prepare for the future and rebuild the invisible shield to be much better this time. To expedite the efforts, we are offering the TurboHire platform for Free for Hospitals for hiring talented medical professionals.

Aman Gour, Co-founder, Chief Product & Strategy Officer
TurboHire wants to improve hiring quality in a way that is intended to control work cost by figuring the number of employees that are required at a unit, enabling AI. We understand that the medical staff shortage can be extremely critical right now. Whether you are a large medical institute or a critical assess hospital, our effort is to enormously expand medical care providers.
As per a report by the Association of American Medical Colleges (AAMC), it is predicted that the physician shortage will peak at around 122,000 physicians by 2032.
More and more healthcare institutes are looking to fill up vacancies with innovative talent intelligence software so as to be able to retain the staff in the future. This has been further validated by the dire need for more medical staff since the Covid pandemic.
More health care institutions are looking to fill their openings, strategizing innovative ways to retain staff members into the future. In such excruciating times to strengthen the healthcare industry, we feel honored to offer TurboHire Free4Hospitals.